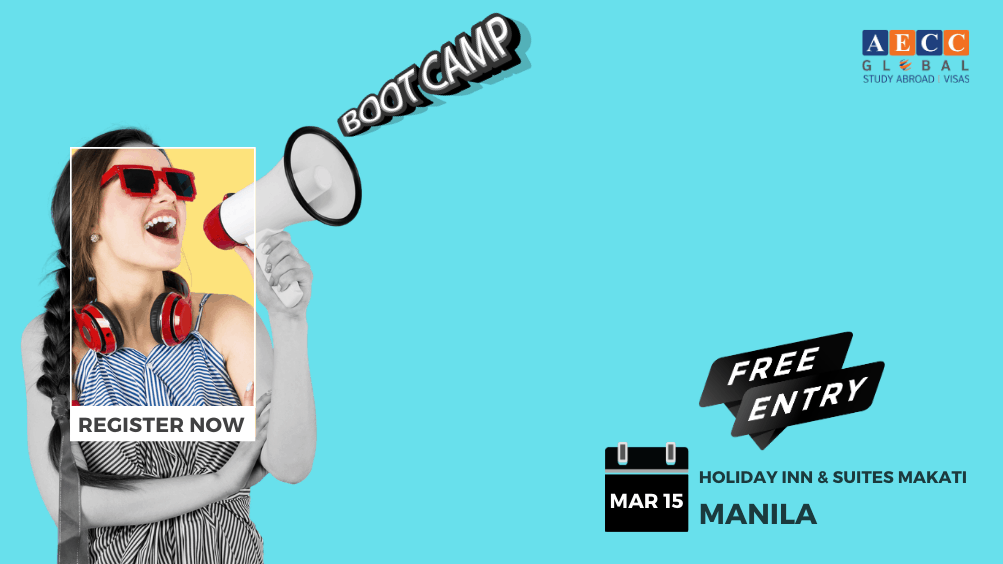 Every aspiration starts with a dream. Doesn't it?
You can aspire to become whatever you want. Perhaps you're a design engineer who dreams of giving life to a machine, or a techno-expert who prefers to spend their mornings and nights interacting with Artificial Intelligence (AI).
In order to gain specializations or become a thought-leader in a skill or area that you're passionate about, a higher education bachelor or master's degree from an international university is not only advisable but also essential. This will help you achieve your aspiration and set you up for better career opportunities across the globe.
Securing admission in an international university is not a simple process. Indeed, the right preparation can bring you closer to your admission goals. That's where the Study Abroad Readiness Bootcamp can help you.
Right from writing an SOP to being pro-active on a Skype interview, the admission process has a series of steps involved in it. Additionally, your self-doubts (cultural adaptation, cost of living, the number of permitted hours to work under a student visa, scholarship availability) can be a hindrance to taking a step forward to pursue higher education in abroad.
Hence, to solve your study abroad doubts through career guidance and counselling, AECC Global has organized the Study Abroad Readiness Boot Camp on March 15, in Manila, to equip you as an international student.
Curious to know more of the sessions?
Here they are!
Wait! Have you registered for Boot Camp? Click on the below link.
To register: https://campaigns.aeccglobal.com.ph/manila-boot-camp/
1) Career Development and Work Rights
This Boot Camp session is to give you a deep insight into career planning & development and popular courses, such as Artificial Intelligence, nursing, biomedical engineering, earth sciences (mining & metallurgy, oil & gas engineering, geology & geosciences) psychology and tourism & hospitality Management.
Post career development session, you can interact with our expert facilitators to get insights on the work policies, maximum permissible work hours and the work rights for an international student.
So, what are you waiting for? Register now!
2) Culture Shock
When you go to other countries for higher education, culture shock is common to experience (especially in Australia). But to overcome from such shocks in a short span requires expert guidance. That's because the country is multiracial and multicultural, hence it reflects on your lifestyle, cultural practises and food.
So, in this session, our experts will guide you with managing &
overcoming the culture shock and effectively communicating with other
international students.
Skill development workshop: The Art of Writing a Compelling SOP
Whether you are a writer or not, when it comes to writing an SOP, you are supposed to adapt the writing template that universities expect to push your application to further processes seamlessly.
Yes! SOP writing is an art. Learning to write an SOP from the expert facilitators can help you bring your overseas education dreams closer.
Still thinking why learning the SOP writing is mandatory for you?
Well, a good SOP can shorten the application process.
3)Budgeting Tips and Money Management
Money management is a hectic task in day-to-day life. But when it comes to managing your finances as an international student, it seems hard yet there are various ways to manage your money comfortably in other countries, like:
Sharing your accommodation space
Going for digital edition books
Student cards help to avail public transport passes
Shopping during season sales
The Student card makes you qualified for many concessions in Australia such as transportation, cafeterias, supermarkets, and cinemas. So, know the benefits of your student card and start managing your money efficiently.
Along with these budgetary tips, our expert facilitators will educate you on the possible ways to manage your money.
You have a lot to look forward to on March 15! Get ready for the Boot Camp.
4)Crisis Management
While most international students experience a safe study abroad journey, some deal with minor & major emergencies as well. The emergencies you consider minor in the Philippines can turn into a difficult situation in other countries.
This session from our expert facilitators solely focuses on how to respond to a crisis and the list of things that you should be aware of to handle a crisis, which includes:
Emergency Action Plan(EAP)
Why create an EAP?
Who needs a copy of your EAP?
How to create an EAP?
Gear up to experience the one of its kind study abroad Boot Camp and make your study abroad dreams a reality.
To know more, https://campaigns.aeccglobal.com.ph/manila-boot-camp/.