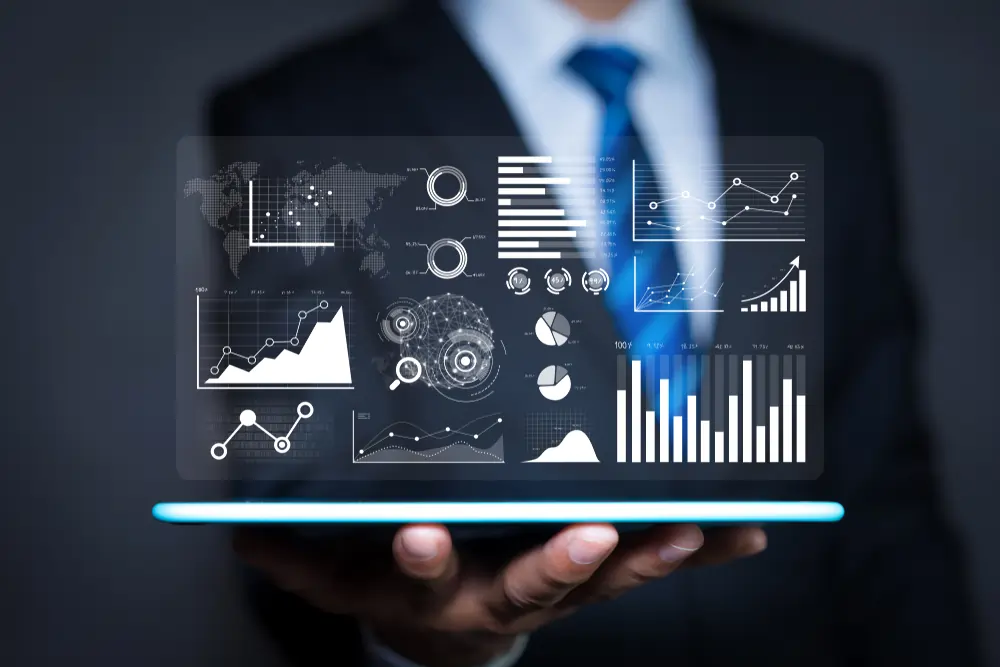 Business Analytics Overview
Business Analytics involves analysing massive chunks of business data for predictions and insights. A good example of the use of business analytics is evident in how streaming platforms offer you web series and movie suggestions. These advertisements are usually associated with what you have viewed or purchased online. Companies have long been using different business analytics software tools, such as spreadsheets. With advanced software programs, business analytics has become a faster process that analyses complex data and delivers better results.
Organisations need people who are trained well enough to convert raw data into insights with practical value. As our technology and systems become increasingly complex, it is important to have professionals with the right qualifications in business analytics to conduct innovative analyses for organisations to solve complex problems. This is why more people should study business analytics abroad.
Why Study Business Analytics Abroad?
For Technical Skills and Management Expertise
Business analytics courses sharpen your technical skills while improving your general management expertise. When looking to study business analytics abroad, you will find the degrees highly technical in this field. A business analytics degree is a qualification in the areas of science, technology, engineering, and mathematics (STEM). It can include modules such as descriptive analytics, discrete mathematics, and data mining.
There is a myth that data science and business analytics deal only with statistics and hard numbers. Technical skills may be important elements in business analytics, but you cannot discount the role of soft skills in this field. This is acknowledged by more and more graduate courses abroad that look to train future business analysts. There is more demand for soft skills at work, especially after the major shift to telework due to the pandemic. The courses help you develop soft skills such as management, recognising emotions, and creative thinking.
International students with quality business analytics degrees will have an edge over others in the global job market. Getting this degree internationally will provide you with extensive knowledge of business analytics, making you a more appealing candidate to potential employers. More than specialists in business analytics, employers want each candidate to be capable of managing other people and projects successfully. When you have a master's in business analytics, your employer will require you to manage both.
Is it a good idea to study business analytics abroad? A look at the average salary scales of business analytics graduates will show you why it pays to do so. Depending on where you study business analytics abroad and what role you occupy in this field, you may earn anywhere between $40,000 and $150,000 as a business analyst.
The amount of data generated online ranges up to about 2.50 quintillion bytes daily. With that much data generated each day, there will be a high demand for professionals who have skills in applied business analytics. This will be an added advantage for you, especially as a graduate pursuing a master's in business analytics, because you can live and work overseas with a graduate visa.
Requirements to Study Business Analytics Course Abroad
Business analytics-related jobs in the tech world are varied, exciting, and usually well-paid. Now, where should you start when you have only a basic understanding of business analytics or a bachelor's degree in a different field? This is when a master's in business analytics is a potentially great option for you. This specialised degree can aid you in getting up to date with all the latest developments in this field and learning invaluable management skills.


Each graduate program in business analytics abroad will have its own set of requirements. So, make sure you go through the details provided by the institution related to the program and meet the requirements as well as align with its mission and objectives. In a general sense, the admission criteria for a master's program in business analytics abroad are just like the requirements to enrol in other graduate courses. Some of the most common requirements are: a bachelor's-level qualification in business analytics or a related field, a resume, a letter of recommendation, a personal statement, and GRE or GMAT scores.


For a competitive degree course, professors and admissions officers seek candidates with related experience, interpersonal skills, and an interest in problem-solving and analysis. Highlight your interests, collaborative abilities, and goals in your statement. When it comes to your admission, it may be beneficial to have certifications in statistics and mathematics, programming, and data analytics.
S.no
Courses
Duration
Requirement
1.
Bachelor's in Business Analytics
Up to 4 years

Successful completion of 12th grade.
A satisfactory score in an English proficiency test.

2.
Master's in Business Analytics
1 to 2 years

A bachelor's degree
An acceptable score in an English language proficiency test
Career Prospects and Scope of Business Analytics
You will have more job opportunities apart from a business analyst's role after you gain an MS in business analytics or a similar postgraduate qualification. Many industries including retail, healthcare, academia, and consulting, value strong skills in analytics. You may lead a group of junior analysts after graduation or occupy one of the following roles.



As a market research analyst, you will conduct quantitative customer research, look into sales trends, as well as use spreadsheets and many other tools to offer insights to marketing managers and other stakeholders.
As a data scientist, you will have to pull meaningful data from raw data with data-oriented visualisation tools and some programming languages. In this role, you will have to imagine, interpret, and report your data-related findings, and sometimes, detail your findings with data reports.
Do you love to pour over numbers or dive deep into large databases? If so, a data architect's job may suit you. As a data architect, you will work with an organisation to develop frameworks for storing and managing accurate data and make data-use-related policies. An eye for detail and familiarity with jargon is essential for success as a data architect.
Technical Project Manager
A project manager is an asset in any industry, and they often take on the title of an IT project manager, technical project manager, or a marketing project manager. With a strong understanding of how data works and attention to detail, a technical project manager should be capable of overseeing a tech team, preparing budgets, and applying complex analysis for better team functionality and processes.
Best Countries to Study Business Analytics Abroad
USA, Australia, and UK are among the best nations to do a bachelor's or master's in business analytics for many different reasons, such as the quality of universities and the pay scales for business analysts in these countries to name a few. Alternatively, you may also consider studying business analytics in Ireland, Canada, or New Zealand, as these countries do not lag far behind when it comes to the quality of education, pay, and opportunities after graduation.


Head to us if you want to acquire more in-depth information about these study destinations, the best countries to study in, or the best universities to attend.
Frequently Asked Questions
Is an MBA in Business Analytics Worth It?
One of the questions that most international students often ask is whether business analytics is a good major. If you build your knowledge and skills in business analytics, it can turn you into an invaluable asset to many organisations. A course that provides a strong foundation in business analytics can aid you in achieving just that kind of expertise. This is to say, yes, it is a good idea for you to major in business analytics.
Which is Better: an MBA or an MS in Business Analytics?
Can a Non-Maths Student Do Business Analytics?
Is Business Analyst an IT Job?
What Is the Difference Between Data Analytics and Business Analytics?
We See Your Potential and Help You to Study Business Analytics Abroad That Adds Significant Value to Your Future.
Our international education counsellors proactively guide and support the international students in choosing the top-ranking universities and the best courses to achieve their career goal. We make sure our students are provided with personalised support when applying to study business analytics abroad.
To get in touch with our expert team, simply leave your details below and we'll call you for a FREE consultation.

To get in touch with our expert team, simply leave your details below and we'll call you for a FREE consultation.
ERIL PAUL PANAMBO, PHILIPPINES
FE VALERIE YU, PHILIPPINES
MARK ANTHONY QUIROZ, PHILIPPINES
RISHA MENGHNANI, PHILIPPINES
JOUSEL ANN SUDARIO, PHILIPPINES
CHRISTINE GEZMENTIZA, PHILIPPINES