Study Hospitality Management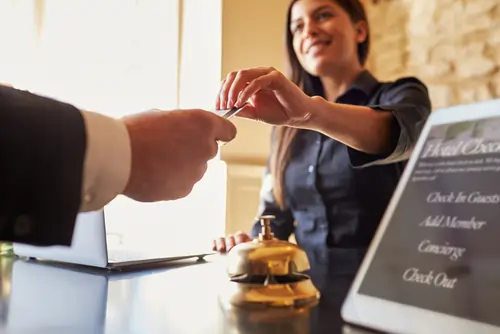 Hospitality Management Overview
Hospitality management is a diverse industry, covering restaurants, bars, and hotels, with a customer-centric mindset as its guiding principle. It is one of your go-to study-abroad options if you have a customer service-oriented mindset, a desire for leadership, and critical thinking aptitude. A degree in hospitality management provides broad insights into both the functioning and structure of hospitality companies. It will teach you many management skills.

Hospitality management courses also offer aspiring entrepreneurs an opportunity to blend theoretical education and practical knowledge, which will help strengthen their soft skills and hard skills, setting them up for success in the hospitality industry. The syllabi of hospitality management courses abroad are customised according to the industry that epitomises customer service. Secondary education may suffice for certain hospitality management jobs, but a degree in hospitality management will best facilitate your leap into the higher salary bracket in the industry.
Why Study Hospitality Management Abroad?
Studying a course related to hospitality management overseas will let you explore hospitality management in a different type of culture, get cross-cultural expertise, and even learn the fundamentals of food preparation. From knowing how to navigate complex cultures to learning a new language to experiencing different viewpoints and working with diverse peers, studying hospitality management abroad will be a priceless experience for you. In the capacity of a future leader in the hospitality industry, you will have to be proficient in a constantly evolving and fast-changing environment.
Whether you want to be an entrepreneur, leader, manager, or innovator, hospitality management skills will help make you:
Ready to solve even the toughest challenges in the world

A more competitive candidate in the global job market

A responsible and engaged citizen
If you are thinking about pursuing a hospitality management degree abroad, you may regard it as an exciting and challenging endeavour, which is fine. While leaving your native country may appear to be a bit challenging for you initially, the rewards will outweigh the challenges. While you will spend a good part of your study days in lecture halls and classes, most hospitality management major courses include placement arrangements in relevant sectors to allow students to gain firsthand experience.
Most employers regard hospitality management degrees abroad as a bonus. In other words, several employers value the study-abroad experience. Communication continues to be a key tool to attain success in the world of hospitality, and employers wish to recruit people with knowledge regarding international trends who can deal with different forms of culture with ease.
If you immerse yourself in a culture by residing in a new country, it will teach you a lot more than you can imagine. Adaptability is an important skill that hospitality employers seek. Studying abroad will mean that you will find it easier to adapt to change, like a new country with a different culture. Culture shock is a big thing in a study-abroad situation, but dealing with leisure, service, cuisine, and so forth will help you with it.
Another benefit of studying hospitality management courses overseas is that it will allow you to gain international hospitality industry connections. Over time, these connections will aid you when you work in the industry as a graduate. You can also gain these connections through your internship arrangements in the hospitality industry.
Hospitality management jobs in internship arrangements abroad can last 6 months to even years. The experience that comes with a longer internship will contribute to you being well versed in hospitality management. Several hospitality management internships abroad come with payments, allowing students to support themselves.
Requirements to Study Hospitality Management Course Abroad
There are also bachelor's courses and master's programs in hospitality management abroad. The entry requirements vary depending on the type of qualification you pursue and the university where you wish to pursue it. That said, some of the requirements for a hospitality management qualification abroad are the same, regardless of whether it is a bachelor's or master's degree.
For a bachelor's degree in hospitality management, you will have to have a Year 12 qualification and a satisfactory score in a test of your proficiency in the English language. For a master's degree in hospitality management, you will need a bachelor's degree and an acceptable score in an English language proficiency test. If it is an MBA in hospitality management, however, you may also need to produce university-specified scores in the GMAT or its equivalent.
Some universities may exempt you from having to satisfy the language requirement for any degree if you are a student from the Philippines or have the required basic qualification in English.
S.no
Courses
Duration
Requirement
1.
Bachelor's in hospitality management
Up to 4 years

Successful completion of 12th grade.
A satisfactory score in an English proficiency test.

2.
Master's in hospitality management
1 to 2 years

A bachelor's degree
An acceptable score in an English language proficiency test
Career Prospects and Scope of Hospitality Management Abroad
A career in hospitality management can be both challenging and rewarding, but it does not suit everyone. Many types of employers provide hospitality management career opportunities, including conference centres, hotel chains, pubs, bars, fast-food chains, airlines, event venues, and the state sector. Studying to get a hospitality management degree will allow you to pick from a large range of industries, which include the following:
Entertainment

Luxury

Food and Beverage

Health and Wellness

Technology

Business Management

Hotels
If you decide to pursue a hospitality qualification, it would prepare you for an exciting career in a large economic sector. This sector includes the entire economic activity that is indirectly and directly associated with travel and tourism.
Alongside the skills mentioned above, skills in hospitality management may also pave the way for a successful career in an array of areas, including the following:
Public relations

Customer service

Human resource

Tourism

Accounting/Finance

Sales/Marketing
Various leadership roles are available in hospitality, according to the kinds of venue and region you prefer, plus the level of involvement that you look for. A master's degree in hospitality management might make you capable of transforming customer service for outdated hospitals, managing hotels, or even opening your own hospitality business.
Best Countries to Study Hospitality Management Abroad
There are several countries with world-class restaurants, hotels, and other food service businesses. They attract people from all over the world, making their hospitality industries vibrant with plenty of scope to continue growing. This is among the reasons why many international students prefer to study hospitality management courses abroad, especially in the following countries.
The international hospitality industry is quieter now than in the past, but this makes it an ideal opportunity to attain the skills that you require to succeed in this industry and help it with its path to recovery. You can even contribute marginally to its recovery by choosing to pursue a hospitality management degree abroad, especially in an economy that thrives as a tourist destination.
Frequently Asked Questions
How Long Are Hospitality Management Courses?
The duration varies depending on the type of course. Bachelor's courses with hospitality management subjects usually last 3 to 4 years. On the other hand, master's degree programs in hospitality management last 1 or 2 years. There are also certificate or diploma courses that last under a year.
Is Hospitality Management an In-Demand Field in Canada?
Are There 2-Year Courses in Hospitality Management?
Which is Better: Hotel management or Hospitality Management?
Which Country is Best for Hospitality Management?
Which Subject is Best for Hospitality Management?
We See Your Potential and Help You to Study Hospitality Management Abroad That Adds Significant Value to Your Future.
Our international education counsellors proactively guide and support the international students in choosing the top-ranking universities and the best courses to achieve their career goal. We make sure our students are provided with personalised support when applying to study hospitality management abroad.
To get in touch with our expert team, simply leave your details below and we'll call you for a FREE consultation.

To get in touch with our expert team, simply leave your details below and we'll call you for a FREE consultation.
ERIL PAUL PANAMBO, PHILIPPINES
FE VALERIE YU, PHILIPPINES
MARK ANTHONY QUIROZ, PHILIPPINES
RISHA MENGHNANI, PHILIPPINES
JOUSEL ANN SUDARIO, PHILIPPINES
CHRISTINE GEZMENTIZA, PHILIPPINES