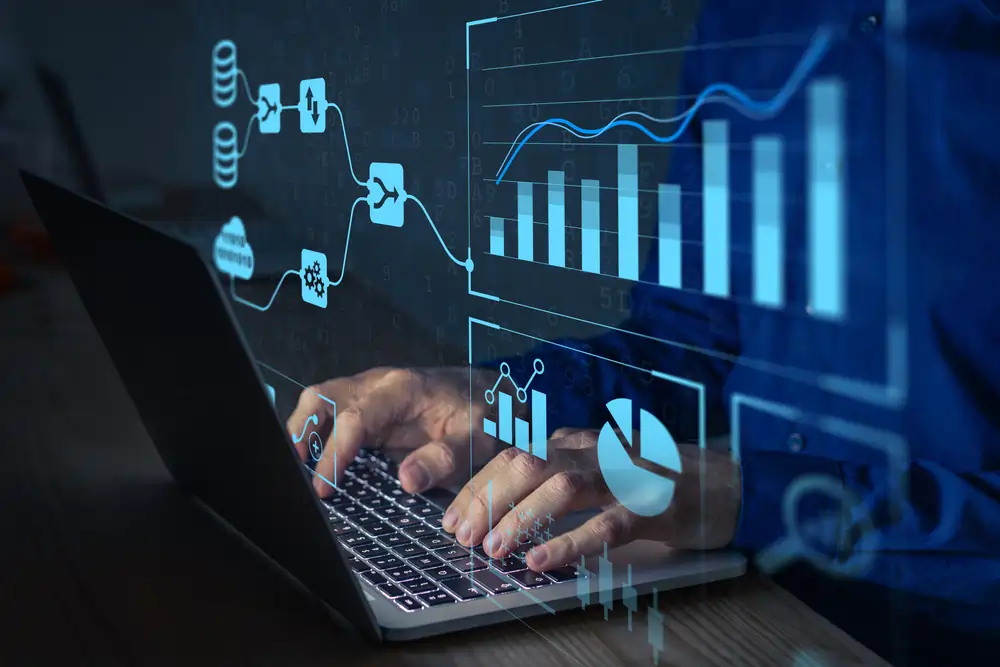 Data Science Course Overview
It is important to analyse huge chunks of data to obtain insights in order to optimise organisational growth. The process behind data science deals with separating and simplifying large chunks of data for business insights. Data science has such a growing demand and vast scope that it increasingly attracts youngsters all over the world. It is therefore a good idea to study data science abroad.
Several popular universities offer master's degrees with data science as a specialisation option. Various top universities seek the help of industry professionals to prepare data science curricula for domestic and international students. Some of the universities also provide internships, work placements, and capstone projects.
Why Study Data Science Abroad?
Competitive Salaries 
With a Master's in Data Science abroad, you can set yourself apart from other candidates in the job market. A data science master's program usually lasts up to 2 years, and it costs $25,000 to $65,000, depending on the country. This will make the return on investment compelling because data scientists have, on average, six-figure starting salaries.


Additional Support
Besides attaining a degree, almost every data scientist undertakes a training program for special expertise, like new methods of making predictive models based on computer vision perform better. Besides experiencing classroom learning, you may join a web-based community of machine learning professionals and data scientists, like CodaLab or Kaggle, to learn more.


The skills that you learn inside and outside the classroom during your Bachelor's in Data Science abroad, will allow you to transition into a Master's in this field with ease. Check whether the institution that you plan to enrol in for a bachelor's degree provides further support, with regard to simplifying this transition. For instance, an additional introductory course at the institute would let you improve your knowledge in data science or better prepare you for a graduate program, especially if you lack a strong computer science background.


High Demand
The Covid-19 pandemic fast-tracked digital adoption to a large extent, with more organisations and customers going digital. This exponential level of digital adoption is only going to raise the demand for both data analytics and data scientists across companies.
Requirements to Study Data Science Courses Abroad
For an undergraduate-level program in data science, you may consider a Bachelor of Science in Data Science that lasts up to four years. More common than bachelor's programs are the data science master's degrees offered in Europe, Oceania, and North America. Many choose to pursue a bachelor's degree first, like a bachelor's in mathematics or computer science, and then a master's degree in data science.
The modules and subject areas you can study include the following:
Mathematics

Programming

Software Engineering

Statistics

Machine Learning

Artificial Intelligence

Systems Architecture

Algorithms

Big Data
You can learn data analytics, programming skills, data management, financial modelling, and data manipulation after completing a Master's in Data Science abroad.
The course requirements vary by university. Almost every university in the US requires the GMAT or GRE exam for admission. On the other hand, several universities in Canada, Ireland, New Zealand, the UK, and Australia assess candidates without looking at GMAT or GRE scores. An English proficiency test, such as
IELTS
or
TOEFL
, is a must for international students at most institutions in English-speaking countries.


It takes much pre-course preparation to pursue a data science degree. As part of this preparation, some important abilities that you need to learn to be a good fit for a data science degree are as follows:


Basics of programming in languages like C++, C, Java, and/or Python

Data visualisation and ingestion
S.no
Courses
Duration
Requirement
1.

Bachelor's in Data Science

Up to about 4 years

Successful completion of Year 12 with good scores in mathematics and science

A satisfactory score in an English proficiency test.

2.

Master's in Data Science

Up to 5 Years

A bachelor's degree in engineering

An acceptable score in an English language proficiency test
Check out the criteria for the courses that you want to enroll in to discover what GPA or grades you may require for admission.
Career Prospects and Scope of Data Science Abroad
Most organisations collect large chunks of data as part of their day-to-day operations. Data collection happens with every instance of web browsing and digital technology interaction in the world. Data scientists play a big role here, as they assess the data gathered, excerpt information, and interpret the results with an eye on facilitating organisational growth. Whenever there is an urgent need to elucidate increasing levels of data, data science grows. Consequently, the requirement for data scientists and other related career paths is growing intensively.
The most attractive career paths in this field include the following:
Data Scientist

Business Analyst

Data Engineer

Data Analyst
As a data science professional, you will have to unlearn certain skills and learn new ones right through your career. With voluminous data being collected every moment, the demand for data scientists will only continue to rise. So, whether you are a fresher or a working professional, a great career awaits you in data science.
As a graduate, you should be predominantly inclined towards statistics and mathematics to pursue a career in data science. It takes time and effort to be a successful data science professional. It is not something that happens overnight.


An entry-level role in data science can be that of a data engineer, data analyst, or business analyst. Apart from one of these roles, you can fit in at an organisation as a data specialist, analytics engineer, business intelligence developer, statistician, machine learning scientist, or data manager. It is fair to say that there are astounding job opportunities worldwide in data science.
Preferred Countries to Study Data Science Abroad
You have many options for big data, data analytics, and other top data science courses abroad. However, it may be a bit tricky for you to choose the right country for data science. If you want to choose the best country to study data science abroad, think about the following options:

United States of America
If you are seeking top universities for data science abroad, the US has many options such as the University of California, Irvine. The presence of big tech companies in places such as California, especially, bodes well for STEM graduates. Universities in the US are known for offering the best-in-class education, along with amazing career opportunities at popular companies.

United Kingdom
Degrees secured in the UK are recognised and highly regarded across the world, and a data science degree is no exception. For instance, Cambridge is a fine example of where you could look into specialising in data science, as a foreign national. The UK has the most universities after the US, making it one of the best nations to study data science abroad and explore great job opportunities.

Canada
Canadian universities have affordable tuition fees, and their standard of education is up there with some of the best universities in the world. TTop universities in Canada specialise in big data, business analytics, data analytics, and other data science-related fields. The University of Toronto is one of the best higher education providers in Canada for a STEM degree.
Australia
Australia has been a top country for data science education and has been attracting students from all over the world for a long time now. A wide variety of programs are available in Australia, including those in cloud computing, computer science, big data, data analytics, and other relevant fields. The country is also known for its stellar education system, which emphasises learning through direct, practical experiences. If you are looking to pursue a data science degree in Australia, Monash University is one of the best options.
Head to us if you want to acquire more in-depth information about these study destinations, the best countries to study in, or the best universities to attend.


Frequently Asked Questions
Is Python Mandatory for Data Science Education?
It pays to undertake an introductory course associated with SAS, Python, hypothesis testing, data exploration, and regression models before applying for a data science degree course. This move will aid you in performing better during your degree term as well as enhance your internship and employment opportunities.
Do I Need an MS to be a Data Scientist?
What is the Duration of Data Science Courses Abroad?
Does Studying Data Science Require Coding Expertise?
Who Gets the Highest Salary in Data Science Abroad?
We See Your Potential and Help You to Study Data Science Abroad That Adds Significant Value to Your Future.
Our international education counsellors proactively guide and support the international students in choosing the top-ranking universities and the best courses to achieve their career goal. We make sure our students are provided with personalised support when applying to study Data Science abroad.
To get in touch with our expert team, simply leave your details below and we'll call you for a FREE consultation.

To get in touch with our expert team, simply leave your details below and we'll call you for a FREE consultation.
ERIL PAUL PANAMBO, PHILIPPINES
FE VALERIE YU, PHILIPPINES
MARK ANTHONY QUIROZ, PHILIPPINES
RISHA MENGHNANI, PHILIPPINES
JOUSEL ANN SUDARIO, PHILIPPINES
CHRISTINE GEZMENTIZA, PHILIPPINES