Human Resource
Management
Study Human Resource Management (HRM)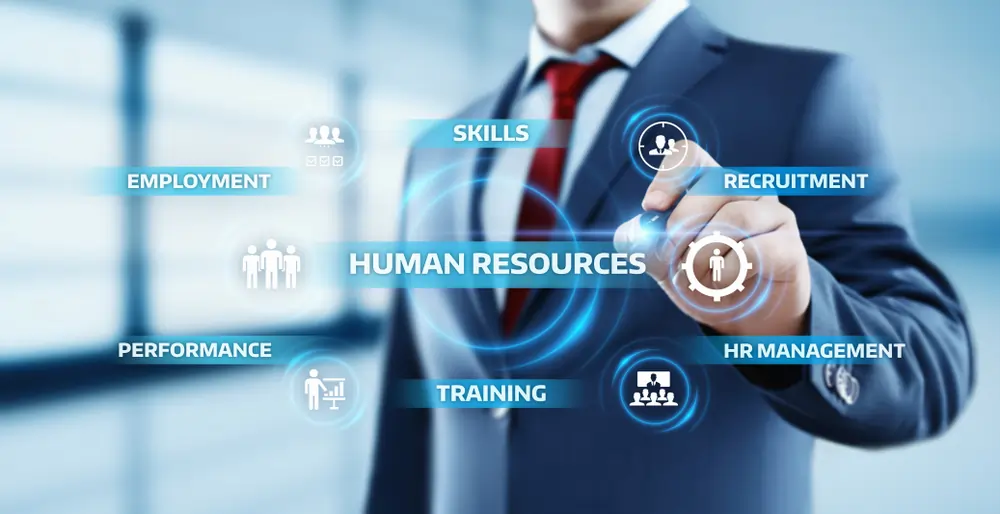 Human Resource Management Overview
The term HRM refers to a way of managing employers and offering them the level of support they require to thrive. Successful companies and organisations bank on strong HR personnel who make the most of their human capital in a way that benefits the organisation and the people concerned. A background in HR will give you an understanding of and theoretical knowledge of important issues and concepts in human resource management.
Human resource management courses teach practices and theories associated with recruitment and selection, performance management, administrative services, training, and staff administration. As an HRM student, you will learn how you can motivate employees and enhance their contributions to make your organisation as effective as possible. A human resource development management course may also focus on how to use organisational behaviour to create a positive work environment.
Why Study Human Resource Management Abroad?
Are you interested in becoming a human resource professional? If so, you should gain some international exposure and experience, because it matters for your career and success in the HR field. Here, we will discuss why you should study human resource management abroad more closely.
Businesses Are Becoming More and More International
When it comes to HR, there is a big gap in international exposure and experience. When more businesses get into the international marketplace, there is greater demand for HR executives who are capable of navigating the world of international recruitment. Many organisations want and require HR managers who can seek, understand, and hire international talent.

Further, in a marketplace that is becoming increasingly global and competitive, companies seek innovative ways of maximising their workforces. Studying human resource management abroad will help you gain insights into the best practices of flourishing multinational corporations. It will also let you connect with and learn from international leaders in HR and industry experts.
It Helps Build Internationally-Applicable Skills
International human resource management lends itself nicely to a set of skills that may be off your radar. Why? Because there is a lack of tailor-made solutions to issues that you come across domestically. The skills you will develop include the following:
Being adaptable and flexible in discovering ways of solving even the problems you did not realise existed;

The capability of making decisions in an ever-evolving environment; and,

The application of skills and knowledge across a wide range of international businesses.
The skills include an understanding of the legal nitty-gritties of recruiting people on a global scale, as well. We will elaborate on this in the next point about why you should study human resource management abroad.
It Aids in Understanding Other Cultures
You must understand different cultures to be able to have as much success as possible in this field. Understanding the common and different aspects of employees and leveraging those aspects in an HR context, will benefit not just you but also your employer.

You will also understand where, why, how, and when to turn to other organisations and prospective employees with dignity and cultural grace. This will play a big part in developing healthy working relationships.
Global Human Resource Management
Managing HR internationally entails determining how to deliver HR capabilities globally. You have two options: creating localised HR processes and systems as well as scaling operations at a centralised location. Most organisations attempt to strike a balance between both because there is sometimes a need for a local approach for optimal business function, despite centralization having its own benefits.

Even the business opportunities with the most potential could fail if you do not manage your human resources well enough. HR issues are some of the most complex barriers to the international expansion of organisations and companies worldwide.
Managing HR globally may entail the following:
Hiring people with the requisite skills

Maintaining adherence to employment customs and rules

Understanding the HR implications of cultural differences

Encouraging diversity and inclusion

Addressing the barriers to effective communication

Managing the development of employees

Planning the policies that relate to employee salaries and benefits
Practical and Theoretical Learning
Depending on the university, human resource management study-abroad programs may cover things such as global strategy, labour law, corporate law, industrial relations, strategic accounting, and more. After teaching the basics, these courses proceed to topics such as organisational design and theory, along with HR theory, recruitment, performance management, and so forth. Many international universities also offer students opportunities to participate in workshops at leading companies, besides projects, internships, and so forth.
Requirements to Study Human Resource Management Course Abroad
There are non-academic and academic requirements for you to satisfy, whether you are pursuing a bachelor's or master's degree in HRM. There are also English language proficiency requirements to get entry into a human resource development management course. This means that you must get the minimum scores in the university-specified English proficiency test unless you have an exemption. Studying a full-time course overseas also requires you to have a student visa or study permit that lasts long enough for you to complete the course.

We are not getting into detail here because the requirements to study human resource course subjects may vary from one country to another and from one university to another. The kind of degree you want to get may affect the requirements as well. For example, some universities require applicants to have some years of work experience to be able to gain entry to their master's degree programmes in HRM. If there is a university or course in your mind, feel free to contact our educational counsellors for further information or assistance about it.
S.no
Courses
Duration
Requirement
1.
Bachelor's in Human Resource Management
Up to 4 years

Successful completion of 12th grade.
A satisfactory score in an English proficiency test.

2.
Master's in Human Resource Management
1 to 2 years

A bachelor's degree
An acceptable score in an English language proficiency test
Career Prospects and Scope of Human Resource Management Abroad
You will have many options if you decide to get a degree in human resource management course subjects because you can apply HR skills to nearly any industry. Office manager, human resources (HR) officer, and occupational psychologist are among the many different jobs directly associated with this degree.

It is a flexible qualification that allows you to deal with processes such as recruitment, performance management, training and development, and so forth. That said, it would also be beneficial to have this qualification to work as a business adviser, mediator, sales executive, life coach, and more.

Several human resource aspects or skills are transferable, meaning it is possible to take these beyond the usual career paths in HR. Managing people is usually a crucial skill to attain and is one of the many HR aspects applicable to any role. The other beneficial skills that you will gain in HRM include multitasking, administration, reporting, and presentation skills.
Best Countries to Study Human Resource Management Abroad
The UK, the USA, Australia, Canada, New Zealand, and Ireland are among the best-known destinations for international students seeking human resource management opportunities abroad.

The country or destination you prefer may depend on your circumstances, though. For example, you may choose to do a human resource development management course in the UK for its global perspective. International companies are ready to pay a lot for people with multitasking and organising skills, so it is a good idea to improve and develop yourself in a global environment.
Head to us if you want to acquire more in-depth information about these study destinations, the best countries to study in, or the best universities to attend.
Frequently Asked Questions
What Is the Difference Between Domestic HRM and International HRM?
Unlike domestic human resource management, international HRM entails the processes of recruiting, managing, and developing employees who hail from many nations. This means that the must-have functions in international HRM include cross-cultural training, as opposed to domestic HRM.
Does Human Resource Management Have a Future?
How Do I Get into International Human Resource Management?
Why is International Human Resource Management Important?
Can You Study Human Resource Management Abroad?
We See Your Potential and Help You to Study Human Resource Management Abroad That Adds Significant Value to Your Future.
Our international education counsellors proactively guide and support the international students in choosing the top-ranking universities and the best courses to achieve their career goal. We make sure our students are provided with personalised support when applying to study human resource management abroad.
To get in touch with our expert team, simply leave your details below and we'll call you for a FREE consultation.

To get in touch with our expert team, simply leave your details below and we'll call you for a FREE consultation.
ERIL PAUL PANAMBO, PHILIPPINES
FE VALERIE YU, PHILIPPINES
MARK ANTHONY QUIROZ, PHILIPPINES
RISHA MENGHNANI, PHILIPPINES
JOUSEL ANN SUDARIO, PHILIPPINES
CHRISTINE GEZMENTIZA, PHILIPPINES