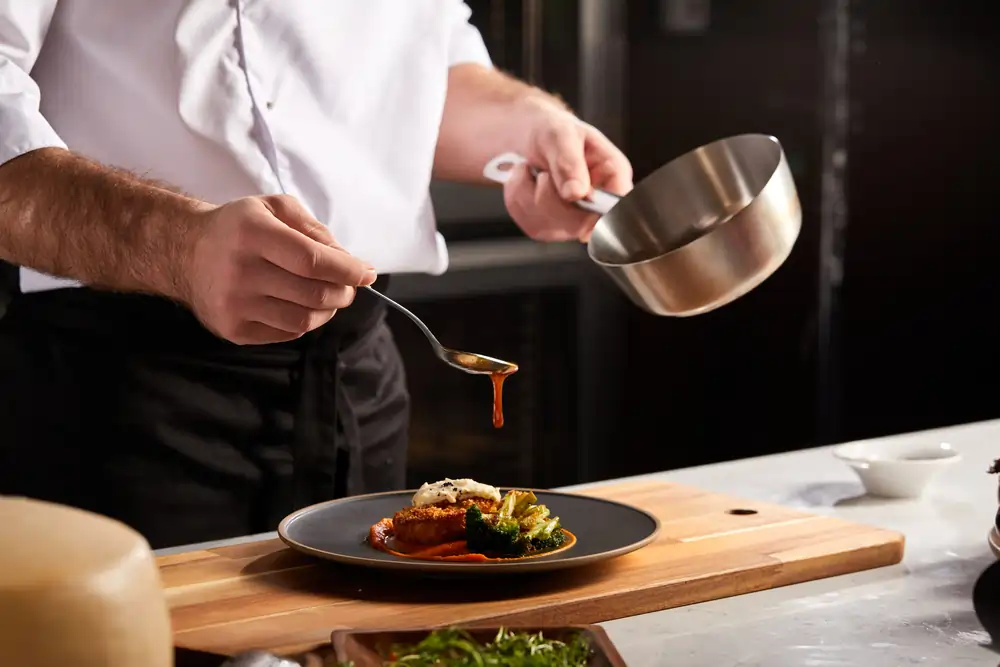 As a field of study, culinary arts combine both the art and science of cooking, presenting, and serving food. For a normal person, cooking may be a household chore, but for a culinary specialist, it is a form of art. Culinary specialists cook meat, vegetables, and seafood for the first course and primary dishes at different foodservice business locations.

Food is arguably the only thing in the universe that ties every ethnicity and culture together. Wherever you are, there will be a common requirement and eagerness for quality food. This is why there has long been a steadily growing demand for culinary specialists around the world.

A course in culinary arts will offer you the managerial and technical skills you need to become a culinary specialist in the foodservice sector. It is a hands-on course that not only teaches various practical skills but also combines aspects of nutrition, business, culinary science, and gastronomy for an all-inclusive learning experience.

Culinary arts is available as a bachelor's degree, a foundation degree, a master's program, a certificate program, and a diploma. Read on to learn more about culinary courses overseas.
Why Study Culinary Arts Abroad?
For Transferable Skills

Culinary arts will arm you with knowledge about cooking as well as many transferable skills, such as the willingness to learn. With your willingness and enthusiasm to learn, you will get to indulge in different international cuisines, techniques, and flavours – which are a lot more diverse in the top destinations for Culinary Arts than in the Philippines. The constant readiness to learn new things is important for success in the culinary industry as well.

An Opportunity to Learn Gastronomy Abroad

Studying international cooking at a foreign university will allow you to explore different cultures and different forms of food. Whether it is Mexican, Thai, Italian, or Chinese food, each cuisine will lure you for various reasons. Now, wouldn't it be amazing to go to the country known for your favourite food and enjoy it in its most authentic form? For instance, perhaps you love chicken tikka masala. In this case, you may pursue a degree in gastronomy in the UK for a more in-depth knowledge of UK food, which is a top global cuisine.

Studying culinary arts at a top gastronomy school in London gives you an edge over students in other study destinations – in the form of top-notch training. Studying international cooking also provides you the great pleasure of making food through conventional and innovative culinary methods.

For Access to More Dynamic Career Options

Food is the core aspect of the hospitality sector. A degree in culinary arts from a university abroad can offer you access to a sophisticated and prestigious career in this sector. For instance, you can become a chef who specialises in haute cuisine at a high-end restaurant, a privilege that will allow you to improve your gastronomy knowledge.
Requirements to Study Culinary Arts Abroad
You must satisfy some prerequisites in order to be capable of attending culinary school, including post-primary education. Here, we will discuss everything culinary schools seek from candidates:
A high school or college degree (diploma)

Valuable experience in the field

A resume

Recommendation letters (For UK applications)

Statement of purpose

of study
Some schools hold a series of assessments for candidates as well. Some colleges allow international students to be part of a culinary arts course as early as the second or third year. This usually requires a higher qualification as compared to a high school degree, along with English proficiency.
Career Prospects and Scope of Culinary Arts Abroad
There will continuously be individuals who love to eat and seek out interesting cuisines. For a person who is passionate, creative, and enthusiastic, especially about gastronomy, culinary arts opens up plenty of opportunities. For instance, if you have a degree in culinary arts, you can even open a restaurant, hotel, or cafe; or alternatively, you can also be in one of the following positions:
Sous-chef

Culinary specialist

Foodservice director

Executive chef

Mixologist

Food technologist

Brewer

Catering coordinator

Sommelier

Private chef
Culinary courses overseas can also open up many career opportunities that you may not have thought about exploring. A gastronomy degree is dynamic, so you will have more options than those beyond the restaurant sector. The degree will prepare you to think imaginatively and critically, as it will expose you to many disciplines in the foodservice industry. You can graduate with practical management and culinary skills that prepare you to pursue a career in your home country or abroad.

Gastronomy degree holders often get employed as cooking educators, restaurant managers, executive chefs, and speciality food shopkeepers. From a marketing and business perspective, many of them become food marketing coordinators, operations directors, and social media managers of famous food production firms. In other words, it is possible for you to use your gastronomy degree no matter where your interest lies.
Top Countries to Study Culinary Arts Abroad
New Zealand, Australia, Canada, and Europe are the top study destinations for culinary arts abroad. In Europe, the United Kingdom and Ireland have some incredible culinary institutions that offer culinary courses to international students as well. If you want to learn more about studying culinary arts in any of these destinations, feel free to contact our counsellors for more information.
If you want to learn more about a degree in culinary arts abroad or any other field of study, feel free to contact our counsellors to help accelerate your path to admission.
Frequently Asked Questions
What is the Highest-Paying Job in the Culinary Industry?
Your pay depends on your location, experience, and culinary skills. For instance, in the US, a private chef usually earns more per year than others in the foodservice industry, but that may not be the case elsewhere.
Is Culinary Arts a Good Career Option for Me?
Which is the Better Career Option: Hospitality Management or Culinary Arts?
Is Pastry the Same Thing as Culinary Arts?
Is Culinary Arts a 2-Year Course?
We See Your Potential and Help You to Study Culinary Arts Abroad That Adds Significant Value to Your Future.
Our international education counsellors proactively guide and support the international students in choosing the top-ranking universities and the best courses to achieve their career goal. We make sure our students are provided with personalised support when applying to study Culinary Arts abroad.
To get in touch with our expert team, simply leave your details below and we'll call you for a FREE consultation.

To get in touch with our expert team, simply leave your details below and we'll call you for a FREE consultation.
ERIL PAUL PANAMBO, PHILIPPINES
FE VALERIE YU, PHILIPPINES
MARK ANTHONY QUIROZ, PHILIPPINES
RISHA MENGHNANI, PHILIPPINES
JOUSEL ANN SUDARIO, PHILIPPINES
CHRISTINE GEZMENTIZA, PHILIPPINES