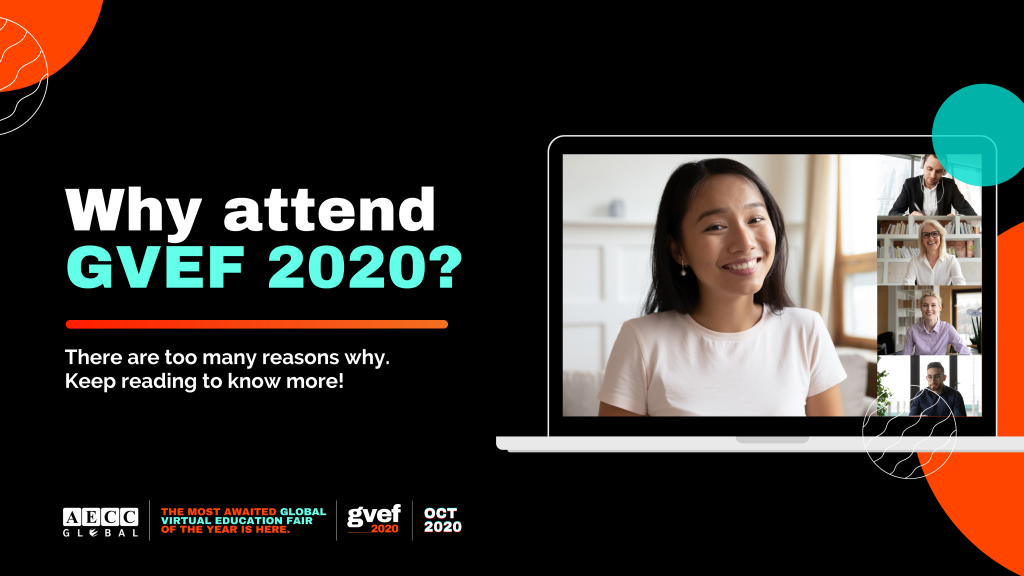 The curtains are rising to the most-awaited opportunities for international students. It's time to suit up for the largest virtual education event of the year that will help you launch your future.
Keeping the future in sight, we have revamped our yearly classic fair - Global Education Fair, into an uber-cool virtual fair - GVEF 2020. 
The Higher education sector has stepped, up and along with them, we are ready to guide you through every bit of your educational journey. So get your game face on and gear up to enter our exclusive virtual event platform - Global Virtual Education fair 2020 this October, as the time to begin studying abroad is NOW!!
What is GVEF 2020?
GVEF 2020 is a futuristic, one of its kind, vibrant, and refreshing Global Virtual Education Fair, you just can't afford to miss! 
There truly is no place like the Global Virtual Education Fair of 2020 to get all your study abroad queries cleared! From choosing a study destination to the visa application process, GVEF 2020 serves as a one-stop digital destination that will answer all your questions regarding your educational plans.
Read on to learn more about the event. 
Time to suit up!
After being still over a period of a few months, taking a step forward can be exciting. 
Your favourite study destinations have done their best and are continuing to do so, to ensure that you will be able to resume pursuing your dreams soon.
Changes in visa regulations, post study work rights, applying for your visa, conduction of classes, scholarships and more matters have been addressed by the countries and their institutions to accommodate the present circumstances of international students. Rest assured, it's good news. 
However, you probably have questions and clarifications you need to sort out right away. And that is exactly why you need to attend the Global Virtual Education Fair 2020.
Global Virtual Education Fair 2020 is all set to raise the bar for students aspiring to study abroad.
With anticipations running high, GVEF 2020 is sure to benefit you abundantly, serving as the door to your educational journey, virtually.
Globally renowned institutions from top study destinations the United Kingdom, Canada, Australia, The USA, and New Zealand are going to be there and you will be able to experience easy, seamless interactions with the representatives at our virtual university booths.
Here are 6 reasons why attending the GVEF 2020 will make your educational plans better.
Seamless connection at your fingertips: Our student-friendly virtual platform is super easy to navigate, and you can enter through literally ANY device from the comfort of your home. Get information, guidance from expert counsellors and university representatives, and, map your study abroad pathway right from home.
Connect with University Representatives: Cannot decide on which university would be the best fit for you? Meet the representatives from various globally esteemed institutions from other countries: The UK, the USA, Australia, Canada and New Zealand. Connect & interact with university representatives in real-time at their virtual booths via dynamic interactive tools. 
Expert Career-Counseling: There are a variety of courses for you to choose from to begin your journey and fulfil your career ambitions. The universities you will meet at GVEF 2020 are globally renowned for their world-class quality in subjects like Arts, Engineering, Mathematics, Social science and more!
Mapping your Admission Process: At this fair, you will gain quick access to useful and important information, via webinars, live Q&A sessions and more to the entire admission process. Any doubts you need answers to, we will guide you through it.
Crystal Clear Clarity on the Next Steps: "How do I move forward?" If this is what you're wondering as an international student wanting to study abroad, then we have the answers. Gain insights into the next steps and learn how you can be prepared to bounce back post the ongoing situation across the world.
Updates on Visa applications: As stated earlier, countries such as the UK have made the rules more 'flexible'. We offer you transparency into the steps that you will need to follow and get ahead in achieving your study abroad ambitions.
Scholarships to support you further: Wondering if there are different scholarships introduced or any financial assistance available? The answer is 'yes'! Learn all about it and more at GVEF.
So, what are you waiting for? Just GVEF already! 
Get quick access to all educational institutions, classes, courses and visa related information. Grow your network and just enjoy the process.
Enter an all new educational dimension this October 24, 2020, and experience a virtual education fair like never before. It's a one time opportunity to get back into the grid! So, don't miss out on attending GVEF 2020!
It's time to drift into a whole new future! Register with us today!