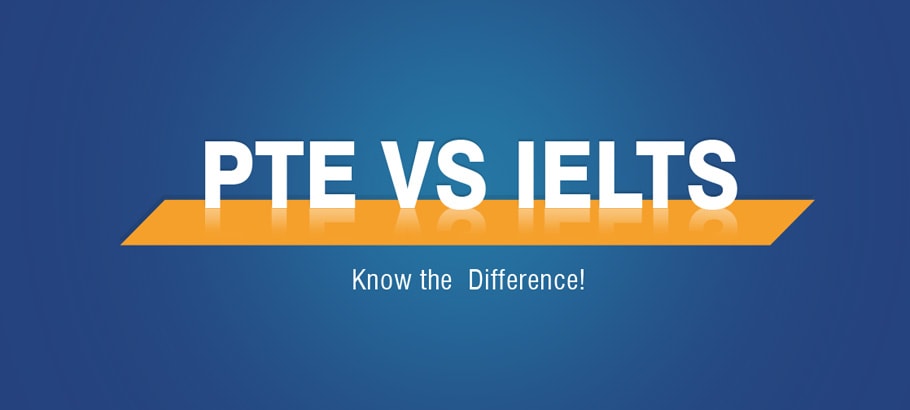 For a non-native English speaker who aims to take up higher studies or is looking to migrate to one of the English speaking countries, a tag of an English proficiency test in the form of either an IELTS (International English Language Testing System) or the PTE academic (Pearson Test of English) is a mandatory requirement.
These two principal, standardized English tests are accepted around the world.

While IELTS has been around for sometime, PTE is comparatively a new entrant but is accepted by all Australian universities and colleges as well as for all Australian visas. With a growing demand for PTE, Pearsons' has further expanded its test centre network to include 13 test centres across Australia.

Too many options can fog you up and the decision making could end up becoming a herculean task, so here is a quick look at how IELTS and PTE differ so you can decide which one is right for you:
Flexibility
The IELTS is outlined in a way that one can take this test on 24 fixed days in a year. PTE academic centres are located in over 50 odd countries worldwide and the test can be taken on any date of the year, subject to the availability of the seats in the centre chosen by the candidate.
Faster scores
IELTS employs a manual scoring technique and results only come through by 13 calendar days after the test in taken. PTE on the other hand is a computerized process and the results are generated online within five working days. This highly accurate computer marking also means consistent scores and no potential for examiner bias.
Integrated Testing
Most English language proficiency tests often falls through the cracks due their inability to blend in various facets of the English language like comprehension, paraphrasing, awareness to a context and so on. PTE, however acknowledges these more 'refined' issues by asking more integrated and comprehensive questions. For instance expressing a chunk of text in one line, in your own words, this way both your writing and reading skills are tested at the same time.
Real Life English
The country you wish to study or immigrate would constitute of people using varied accents of English and not a uniform accent. PTE Academic tests real-life language so you will hear excerpts from lectures and view graphs and charts. You will hear a range of accents in the test, from British and American to non-native speakers, so you will be exposed to the type of accents you will encounter in everyday life.
Automated audio test
PTE audio tests are automated and is evaluated by a computer program. There are two benefits to this, one that the voice recording gives the universities a clearer picture of the standard of spoken English, as opposed to an evaluation by a single certified IELTS examiner. The second benefit is that it helps the candidate to speak out without getting intimidated by someone sitting across unlike the PTE where the audio is computer captured.


PTE vs IELTS Comparison Table
Parameter
PTE
IELTS
BOOKING PROCESS
Booking & Registration
Register/pay online or by phone up to 24 hrs inadvance*
Usually by mail or in person with only some on-line. Registration may close a while before the test
Test availability
Testing weekly in all centers in Australia. Where demand is strong tests are run 5+ days per week up to 3 times per day
48 fixed test sessions per year
Cost
$ 330
$ 330
Locations
Worldwide
Worldwide
TEST STRUCTURE
Duration
Single 3 hr session (with an optional 10 min break)
Test totals around 3 hrs but can be delivered in 2 sessions in some locations
Format
3 part:


Speaking & Writing
Reading
Listening

4 parts:


Listening
Reading
Writing
Speaking

Delivery
Computer based and 100% computer marked
Paper based test and interview marked by examiners
RESULTS
Speed of results
Typically available within 5 business days. In 2014, we delivered 85% of scores in 2 days
Usually posted 13 calendar days after the test
Accessing & submitting results
Test takers can access and submit their scores to the DHA and an unlimited number of edu- cation institutions and professional bodies via a secure website at no extra cost

Paper certificate mailed by postc
Limited submissions, additional score submis- sions incur an extra charge

Score comparison
Scored on a highly granular scale range of 10-90 points, the test gives an extremely accurate and consistent assessment of a test taker's ability.
Scored on only a 9 point-band scale.
Scoring Pattern of PTE in Comparison with IELTS
IELTS and PTE are very much similar when it comes to test sections; both of them have four different sections of Reading, Listening, Speaking and Writing. But in context of scoring, both are very different.

A student can score from 1 to 9 while taking IELTS but for PTE Academic, a student gets the grade on the scale of 10 to 90. Since PTE Academic is a computer-based test, its results are far more accurate and unbiased. A student's PTE Academic score will be generated against the Global Scale of English, a thermometer-style scale which is known for reflecting an accurate and comprehensive overview of his or her English skills.

The score report of PTE Academic tells not just the overall score of the student but also a detailed breakdown of student's performance. This score report also marks you communicative skills scores and enabling skills scores. The communicative skills include the score of listening, reading, speaking and writing sections which get marked as per your test performance.

However, the score for enabling skills which includes grammar, oral fluency, pronunciation, spelling, vocabulary and written discourse, will be based on all test items assessing one or more of these skills.

The PTE Academic Score Report will also have some infographics to help the students assess their strengths and weaknesses. This becomes extremely beneficial as students who are interested in working upon their English proficiency stand a chance to improve their score by paying attention to their weak areas.

Looking for some help with your English Language Test preparation? Check out our free resources on IELTS, TOEFL, PTE & OET or just fill the enquiry form on this page to connect with our expert counselors for guidance on your study abroad journey today!