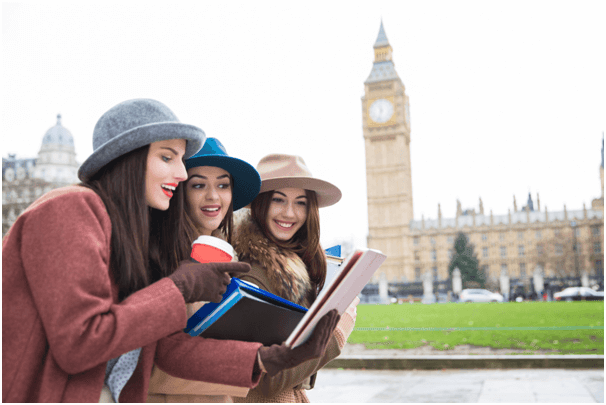 Having been a vibrant place that houses a vast number of international students year after year, London is the most sought-after study destination for programs such as law, engineering, medicine, design, sports science, and management. Did you know? London comprises elite universities! 6 out of which are ranked amongst the top 200 institutions by the Times Higher Education (THE).
London is also a multicultural city where you can find students from all parts of the world. According to HESA (Higher Education Statistics Agency), the UK is the 2nd popular study destination for students with over 115,000 international students (grew by 5%) Studying in London in diverse courses. Since the city is welcoming, you can comfortably step into London to accomplish your higher education dreams.
Interested to know the other aspects of studying in London? Read on!
1. Rich Research Infrastructure
REF (Research Excellence Framework) is a unique system that checks and accesses research standards of over 150+ institutions in the UK. The result revealed by REF states that 46% of research done in the UK institutions are internationally excellent and 30% of which are world-leading.
Guess what? The UK Government awarded over 90,000 research degrees between 2008 and 2018, which is considerably higher than other developed countries' count. The report prepared by the Dept. of Innovation, Business and Skills revealed that the fields such as health & medical sciences, clinical sciences, social sciences, humanities and business had conducted more research in the year 2019. So, irrespective of the field you choose to study, you have opportunities to research, innovate, and shine as an international student in London.
2. Post-Study Work Rights
With the new 2 years' post-study work rights in the UK, international students completing a program in London at the undergraduate, post-graduate, or doctorate level will be allowed to apply for the Graduate immigration route with a valid Tier 4 Visa.
On successfully meeting the eligibility criteria, all international students are accepted for the Graduate immigration route and can avail of up to 2 years of non-extendable leave. Over time, they will be allowed to either work or lookout for work pertaining to a specific skill set. Graduates are also entitled to swap their careers to skilled work as soon as they find employment that best fits them.
3. Health Cover Benefits
International students in the UK with a valid study visa can receive necessary/essential healthcare treatments through the UK Government's NHS (National Health Service). The NHS provides free health cover to international students and UK residents through national funding.
In order to receive free health treatment under the NHS Scheme, you shall need to meet the following eligibility criteria:
You should have enrolled in a full-time course in the UK.
The UK Government must accredit the selected course.
4. Scholarships for international students studying in London
The UK Government continuously provides financial support to help deserving international students to study seamlessly in the UK. This includes scholarships, grants, bursaries, fellowships, monetary awards, and loans.
The availability of scholarships and bursaries in the UK for international students from both the government and the privately held universities is a driving factor for international students' growth in London, every year.
For instance, Chevening Scholarships are awarded to outstanding international students from Chevening-eligible countries around the world. This scholarship is applicable for students pursuing a one-year master's degree in the UK. Since it is a fully-funded government scholarship, it covers travel expenses, living costs, and accommodation costs. Hence students are free to focus on maximizing the study experience of a lifetime.
5. Tailored Courses
Studying higher education in the UK will help complete your course in a short span. Most countries have a template of 4 years' course span for undergraduate and 2 to 3 years' course span for postgraduate courses. But when you choose to study in the UK, you can complete undergraduate in just 3 years and postgraduation in just a year(for research-oriented courses it may take between 18 months and 2 years). The tailored courses in the UK can help cut short your academic cost for a year. Some of the popular tailored courses to study in London from Philippines are mentioned below:
Business.
Natural Sciences.
Engineering and Technology.
Medicine.
Law.
Social Sciences.
Sports Science.
Media and Communication.
Fashion
Arts & design
So, are you planning to get enrolled in a London University? Well, we are here to guide you through step by step process to achieve your study abroad journey seamlessly.