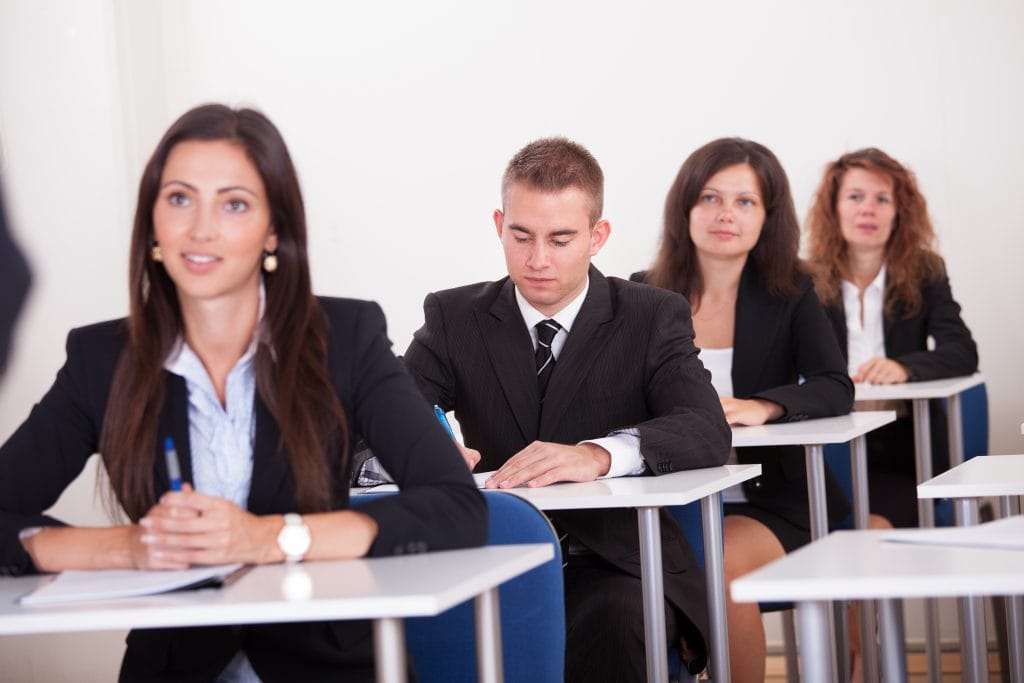 Having been the epicentre of trade and global finances for centuries, London remains as one of the hottest financial centres in the World. From entrepreneurs to global leaders and politicians, many renowned people across the World hold a degree from the business schools in London. Besides, London houses over 60% of the European Global Companies Headquarters and is also the World's 3rd largest Technology Hub of the World. 
As the UK Government reopens its border to international students, opportunities span over a whole lot of business-related courses, ranging from Business Administration to Business Communication, Business Economics and finances. 
In the academic year between 2017 and 2018 alone, over 50,000 students opted for business degrees in London out of which more than 26,000 students are international students. With students across 200+ countries studying in London, you will get an opportunity to build a global network of business contacts and friends while studying in a business school in London. To help you choose an ideal business school, we have jotted down a few essential tips.
Look for Triple Crown Institutions
Triple Crown Accreditation is one of its kind value-added terms for business schools. As per March 2019, only 90 Business Schools in the World are Triple Crown Accredited, amongst which 20 are in the UK. The accreditation is provided by the 3 most sought after international associations such as AACSB, EQUIS and AMBA. 
Each of these associations assesses business schools in different aspects. 
AMBA looks for MBA courses, EQUIS looks for the entire education improvement framework, and AACAB looks deeper into the particular institution and its standards. So, choosing a Triple Crown Business School in London would add more value to your profile. This choice will certainly help you land your desired job considering the number of recruiters hiring candidates from the top business schools, not to forget,  with a hefty paycheque.
The 2 Triple Crown Public Business Schools in London are:
Cass Business School
Imperial College Business School
Identify your career niche
Getting admission and graduating from a business school are not effortless tasks. Right from your admission process, the B-schools will continuously evaluate you in terms of your self-development and self-awareness in your career goals. So, sticking to one particular goal can help you in filtering a Business School that best fits your career interests.
For instance, if you are applying for an MBA degree in a business school in London, the assessment team assesses your defined career goals post the completion of the Degree. Your career goals are the pivotal theme for admission related questions and interviews. Hence, it is mandatory to take a step back, define you, and project yourself with a well-defined career niche before applying to any Business school in London.
How do you compare business schools in London?
Though each business school has its prolific range of specialisations, your requirements and reasons for choosing business school might not correlate with all the institutions. So to ease your B-School filtering process, we have 3 essential comparison tips for you. 
Rankings are the best data point to compare and evaluate business schools against each other. But it would be best if you were cautious, because, each online outlet and publication calculates the rankings based on their own methodologies, that may not align with your reasons for choosing a Business School in London. 
For instance, if the initial paycheque is crucial for you, then it is obsolete to check rankings that are based out of business schools' infrastructure. In such cases, the rankings which report and measure the minimum salary package can be apt for you. Similarly, it varies for parameters such as Scholarship, Infrastructure, faculties and much more.
Specialisation and Course Structure
If your goal is to land a job in the financial industry or to start your own new venture as an entrepreneur, then broaden your search and lookout for a business school which will act as a stepping stone for your career after completing an MBA Degree in your desired specialisation. 
On the other hand, you should also be precisely looking at the course structure of each business school individually, as the academic structure varies from B-School to B-school despite the same MBA Specialisation (every B-School follows a distinctive management development and culture approach).
Hence it is wise to compare and choose a business school that acts as a recruitment hub of fortune 500 companies.
Seek additional information
While regularly googling business schools in London, sometimes, it is better to interact with people who have been either directly or indirectly connected to business schools, as it could act as a tie-breaker in your selection process.
Luckily, you have multiple online resources to get in touch with people. Some of the resources are: 
Attending information sessions and Webinars conducted by your go-to business schools in London.
Finding out meet and greet events date in your city (An information session conducted by the business school officials across countries and cities).
Connecting with a business school alumnus in your geographic area. Prepare a bunch of questions and seek information/data from them regarding business courses, business school infrastructure and selection process. 
Joining in one of its kind clubs, like GMAT- An online community for business school aspirants to share their inputs and experiences.
Connections via LinkedIn? Oh, yes! Since you are unable to directly connect with current business school students, LinkedIn can help you connect, introspect and know the pros and cons of each of the business schools in London. It's a given that this process can come in handy while filtering the schools based on your interests and career goals. 
Business Schools in London are not just a place to hone your management skills but also a place to learn, introspect, and understand the ever-growing world of trade and commerce. If you wish to become an entrepreneur, deciding to study in a Business School in London, is certainly a wise idea.
We at AECC are committed in helping create your personalised pathway to success in your chosen career and in London.