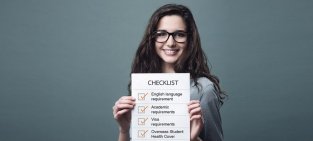 Preparing to study overseas evokes a range of different emotions among aspiring international students. Most individuals feel excitement for the adventure that awaits them at their study destination, others feel the pressure of completing the requirements to study in Australia. But if not done properly, incomplete applications may cause delay, unsuccessful admission to the university, or even visa refusal.
Qualified education consultants and registered migration agents come in handy in providing detailed procedures in ensuring completeness and efficiency in obtaining such documents. They also ensure that you meet all the entry requirements and eligibility making your application decision ready. Although, there maybe a few requirements unique only to certain universities or institutes, the main entry requirements remain the same for all. Here are the 4 requirements you need to fulfil to study in Australia.
English language requirement
This is one of the major requirements that proves to be challenging for many students. And like with any test, it is recommended to allot ample time to prepare and practice beforehand. The International English Language Testing System (IELTS), Pearsons Test of English (PTE) Academic, Test of English as a Foreign Language (TOEFL) and Occupational English Test (OET) are among the popular English language tests available. You can learn more about the differences between these language tests by reading our blog entitled, English Language Proficiency Test Options: IELTS VS. PTE VS. TOEFL VS. OET VS. CAE. Which one is right for you?. The blog contains comparative analysis on validity, fees, test dates and results. And, also the institutions that accept them.

In some cases, the English language skill level required by the chosen education provider can be different from the level of skill required for student visa application. To be on the safe side, it is recommended to check both the student visa information via the Department of Home Affairs and the provider's English language requirement.

Did not reach the required English skill level? It's ok. You can still pursue your dream education in Australia by undergoing English Language Intensive Courses for Overseas Students (ELICOS) or English for Academic Purpose (EAP). These programs aim to develop the students' English skill and to continue on to academic studies.
Academic requirements
Depending on the level of education you want to study in Australia, the academic requirements will vary. For example, if you are keen to study a Bachelor's degree program, generally, you will need to have an Australian Senior Secondary Certificate of Education (Year 12) or the overseas equivalent. For Post-Graduate studies, you are expected to have completed at least one degree at undergraduate level, equivalent to Australian Bachelor's degree, or relevant work experience.

In addition, institutions can have different entry requirements. It will be helpful to thoroughly read the course information available in education provider's website. Should you have doubts, contact the provider directly to clarify. Alternatively, you can discuss your plans with qualified education consultants who are knowledgeable of the entry requirements.
Visa requirements
The requirements for Student Visa (subclass 500) may vary according to the applicant's country of passport and chosen universities or institute. And these requirements are listed in the Department of Home Affairs. Some examples of the key requirements that must be met are electronic Confirmation of Enrolment (eCoE) certificate from the chosen university; the General Temporary Entrant (GTE) which aims to measure the integrity of student visa applicants in ensuring that the student visa program is used as intended; sufficient funds for course fees and cost of living expenses; English language proficiency results; health and character requirements; and a valid Overseas Student Health Cover (OSHC).

To avoid delays in receiving the visa outcome or have the risk of visa refusal, it would be beneficial the follow the Document Checklist Tool provided by the Department of Home Affairs. While you can lodge the Student Visa on your own, registered Migration Agents can make this process hassle-free and efficient. Because of their experience and expertise in the matter, you can be assured that you are receiving proper guidance and all the necessary steps are covered.
Overseas Student Health Cover (OSHC)
Australia requires aspiring international students and family members travelling with them to secure a valid OSHC prior to arriving to the country. Once your Visa has been granted, you and your family members travelling with are required to maintain the health cover for the duration of time you are on student visa in Australia. OSHC will help you pay for medical and hospital care which you might need while in studying in Australia.

With many providers offering similar plans, selecting the most applicable may be challenging. Get in touch with our consultants and receive guidance in choosing the right OSHC for you. You can also read about our services here.
With this information at hand, you should be better prepared to embark on your overseas journey. But that's just a small part of what we offer! To know more about popular courses, universities, and scholarships, book a free consultation with our AECC Global experts today!