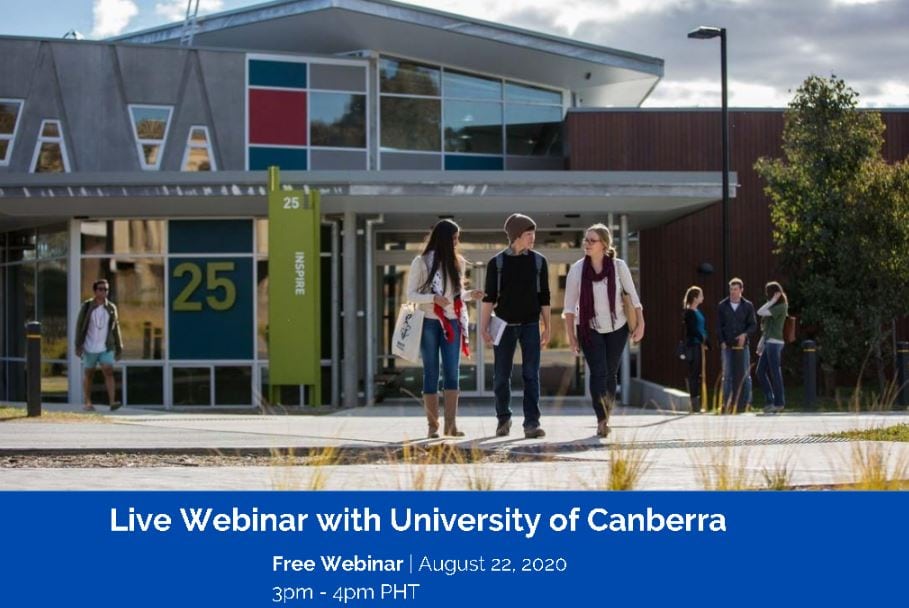 Everyone knows Australia is famous for its vibrant cities, exotic beaches, outback bush, and distinct wildlife. But when you take a look at the bigger picture, Australia surely has a lot more to offer! 
Did you know that Australia has been the haven for international students for decades, and it is the 3rd most sought-after country in the world for students pursuing higher studies? 
That's right! The country provides international students with both a top-notch education system and a safe living environment. 
Wondering how you can pick the right institution from a whole lot of universities spread across Australia? Well, the University of Canberra is one great option and will help you fulfil all your study abroad dreams! Want to know more about this university? Continue reading. 
But wait! Before you proceed, go on and register for our unique UniSessions Webinar to interact with the representatives of the University of Canberra on August 22 from the comfort of your home.
Principles of the University of Canberra
The University of Canberra gives importance to international students' learning experience and follows a student-friendly approach to help students engage comfortably with faculties. 
Students are allowed to learn through immersive learning experiences based on principles of intellectual enquiry, thus producing ethically and socially responsible graduates year after year. Irrespective of the country and backgrounds/origin, students are given opportunities to study and research in their domain, simply based on their academic performance.
The University of Canberra's virtual classes, educational analytics, and state of the art technologies enable international students to get in-depth knowledge in their field of study, especially on courses related to medicine. 
The Curriculum at the University of Canberra
The curriculum at the University of Canberra supports and integrates the development of skills, understandings, and values associated with a specific course and its professional application. Besides, all the learning materials are curated, revised, and reviewed accordingly to the changes or invention in technology blooming around every year. 
Work Integrated Learning
International Students at the University of Canberra have exposure to academic and industry experts throughout their academic duration, providing opportunities to interact with domain experts across the field of study, to prepare students on board for the workforce. 
On the other hand, co-operative education and experiential learning options help students engage with international communities to sort out realtime global issues.
Academic Options
With 200+ undergraduate, research degrees and postgraduate courses spanning across 25+ fields of study, it's notable you can pick a course of your choice that best fits your career goals. Besides, the university offers many flexible learning options and practical experience to enable students to survive in the competitive environment.
Course Level
Qualification
Undergraduate
Diploma
Associate Degrees
Bachelor Degrees
Postgraduate
Honours
Graduate Certificate
Graduate Diploma
Postgraduate Diploma
Master
Research
Master
Doctorate
Guaranteed University Accommodation
The University of Canberra offers guaranteed accommodation for new international students, UC Diploma students, UC first-year domestic students and UC ELICOS students.
Based on students' requirements, a range of accommodation options are available on-campus. Students can opt for either a private apartment or a multi-share apartment with 12 bedrooms.
Research Initiatives of the University of Canberra
Collaborative Indigenous Research Initiative of Canberra University consists of a cluster of researchers who collaborate amongst international and national partnerships. The researchers in this group work with existing faculties and research centres to enhance, connect and promote the University's research interest, thus helping international students find a place to park their innovative ideas. 
The STEM Education Research Centre (SERC) of Canberra University is continuously involved in groundbreaking research in STEM education (science, technology, engineering and mathematics), with the help of up to date technologies to assist students' learning.  
In terms of Environment, the University of Canberra has created a profound impact with its exceptional research in biodiversity, water, ecosystem and management of species and environmental science, resulting in earning a global reputation with the research outcomes. 
Research in training and education play a vital role in designing the knowledge and skill of the economy. The research members of the education team proactively work on contemporary challenges in the education sector right from childhood to schools, tertiary education and learnings at the workplace. 
Innovative Education Research projects relating to:
Enhancement of school teaching
Teacher education
Educational policy
Tertiary learning and teaching
community education.
Would you like to know more about the University of Canberra? Here is your chance to talk to the representatives of the university through our free UniSessions Webinar.