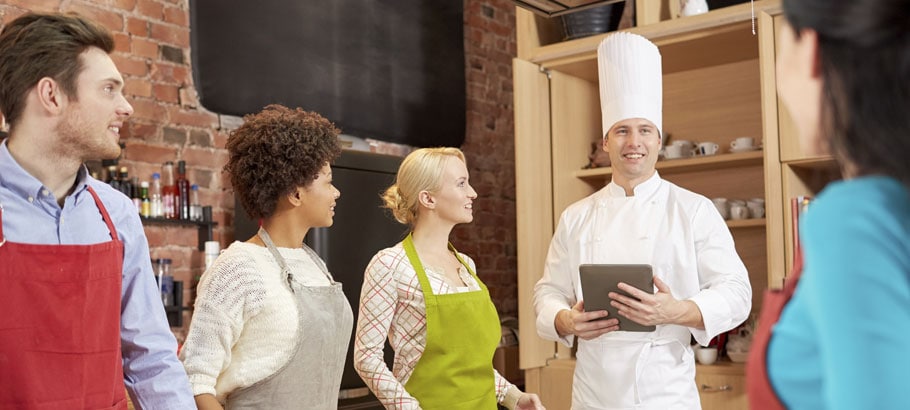 Students wanting to fulfil their passion in cooking, improve their techniques and build a rewarding career will no doubt benefit in taking Commercial Cooking course. Completing the course will open various pathways to achieve success in this exciting global industry.
Check the other exciting reasons why you should take Commercial Cooking:

Australian standard of living: Constantly topping the list of most liveable countries in terms of quality of life, education, income and its laid back nature, makes Australia ideal for international students. Ethnically diverse Australia can bring new level of experiencing world culture.

World recognition: Australian Education is acclaimed in the world for its quality. Graduates of commercial cookery have the definite advantage when applying for job in Australia or in their chosen country.

Hospitality industry: Australia as one of the top tourist destinations in the world, has a thriving hospitality and food industry. As such, the industry is always in need of professionals to fill up the demands.

Creativity: Students will learn basic kitchen skills and the same time explore their own creativity. Be it in the plating or skilfully produce a masterpiece for the eye's delight.

Other skills: Having excellent kitchen skills is not enough to be successful in the industry.  Aspiring chefs are will also learn on how to management people, budget, create menus and or manage the restaurant.

Working with others: For a successful restaurant or kitchen to work, all staff will have to work hand in hand with the guidance of the head chef/supervisor. Aspiring chefs will learn the value of teamwork in order to achieve common goal.

Hands on experience. Students of Commercial Cookery are exposed to hands-on experience/placement usually provided by the institutions with their restaurant partners. A significant part of the program in honing the skills and having first-hand experience.

Potential employers: Graduates of Commercial Cookery can take advantage of the established industry which they can be employed in restaurants, clubs, pubs, hotels, resorts, cafes, cafeterias, coffee shops, schools, hospitals or into large scale productions as in catering/airline catering or shipping line cruises.

Career path: Upon completing the diploma or degree in Commercial Cookery, aspiring chefs can obtain substantial work experiences and work towards achieving in developing their careers. Sample of job titles in commercial cookery:
Head Chef
Food and Beverage manager
Catering Manager
Chef de Partie
Restaurant Manager / Owner
Cooks
Degrees and course: International students are able to select courses available being provided by reputable universities and institutions around Australia. A few of the degrees and courses are:
Certificate III in Commercial Cookery
Certificate IV in Commercial Cookery
Certificate III in Patisserie
Certificate IV in Patisserie
Course duration: From 6 months to 4 years (full time).

Visa requirements: Here are some of the requirements in securing student visa.  Alternatively, you can contact our education counsellors for worry free process.
a valid passport for the duration of your study in Australia
offer letter from the selected university/institution
Pearson Test of English Academic (PTE Academic) score 46 (no communicative skill score less than 40) or IELTS score 5.5 overall (no score below 5.0 in each of the component) *
evidence of access to sufficient funds*
evidence of Overseas Student Health Cover
all other relevant documents listed on the Department of Home Affairs visa checklists.
Temporary Graduate Visa: Graduates are able to apply for Temporary Graduate visa*. Temporary Graduate visa holders are able to study, stay and work in Australia temporarily after the completion of the studies, depending on qualifications, for eighteen (18) months to two (2) years. An opportunity to gain relevant local work experiences which may be countered towards Permanent Residency.

Bright Future: Due to the high demand for chefs/cooks as with other sectors of commercial cookery, these occupations are listed consistently in the Skilled Occupations List (SOL) and Consolidated Sponsored Occupations List (CSOL).  Sample of which are Cook, Baker, Pastrycook and Chef.  As most visa types, an assessment procedure by a recognised authority is required as part of the visa application for work or migration purpose such as Permanent Residency.  Commercial cookery degree graduates can look ahead in building career and invest for bright future in Australia.  We at AECC Global are committed in helping create your personalised pathway to success in your chosen career and in Australia.
Keen on pursuing a course for cooking abroad? Get in touch with our expert guidance counselors and start your study abroad journey!