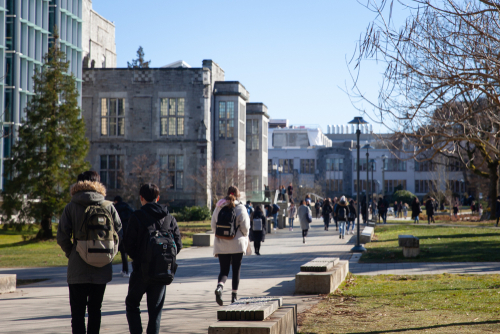 Home to a number of prestigious colleges and schools, Ontario offers international students with a big city experience while also making them feel at home.
The diverse province is noted for its inclusive approach and friendly attitude which attracts international students from all over the world. Universities in Ontario are well-known for welcoming international students, with policies that encourage student safety within the local communities.
Cultural Hotspot
Ontario is known to be Canada's artistic hotspot, with its own thriving art scene. It is regarded as the third largest film production centre, and is a student province with a significant contribution for art. Every year, more than 50 film festivals, Broadway musicals, and art exhibits are held in the province.
Ontario is also well regarded across the globe for building the richness of the province by celebrating local culture, innovation, educational and business industries, and ethinic groups through virtual programming, special festivals, and artistic events. They try to connect people of different communities, craft new alliances, and encourage events outside of the province in the country. Furthermore, they organise workshops and seminars on youth employment and mentorship which help international students develop the innovative potential of their community members.
Ontario's Educational Institutions
Ontario has some of the best universities not only in the region, but in the entire world, offering a diverse range of courses to draw international students from all over the world. It is home to a range of educational institutions such as Nipissing University, Queen's University, Western University and many more.
The province has more than 20 publicly-funded education institutions such as Colleges of Applied Arts and Technology (CAATs), where students can apply for a two-year diploma degree.
Ontario has 22 public universities where students can pursue a degree. University studies usually take three to four years for an undergraduate degree, two years for a postgraduate degree, and four years for a Doctoral degree. The duration of the undergraduate and postgraduate degrees can differ based on the discipline of study chosen by the students.
Ontario Student Gateway
Studying in Ontario can be a springboard to working and living in Canada, as well as a possible gateway to immigration. The Ontario government has launched the Ontario Immigrant Nominee Program (OINP), the province's economic immigration program. The immigrant nominee program works in collaborative effort with the Government of Canada through Immigration, Refugees and Citizenship Canada (IRCC). International students pursuing their higher education, and well equipped with the requisite skills and experience, are eligible to apply to the OINP for a nomination.
The Ontario Immigration Nominee Program acknowledges and nominates international students for permanent residence who have the expertise and experience that the Ontario economy requires. The Canadian government takes the final decision on whether an international student is eligible for permanent residence.
The OINP for international students works in three categories:
International Student with a Job Offer Stream
This specific category was developed to assist employers in their efforts to recruit foreign students. It is available to all Ontario employers and students who have work opportunities in the province.
International PhD Graduate Stream
This sub-category is for international students who have completed their doctoral degree at one of Ontario's publicly funded universities. A job offer is not necessary for this scheme.
International Masters Graduate Stream
This sub-category, which is presently running as a temporary pilot scheme, is for the international students who have earned a Master's degree from one of Ontario's publicly funded universities. A job offer is not necessary for this scheme either.
Ontario is well-known around the world for providing exceptional learning access to international students. Every year, education contributes approximately half of Ontario's GDP, and the government of Ontario is committed to continuing to support and invest in international students from diverse communities.
The Ontario government is always willing to work with international students to overcome adversity and ensure that Ontario remains the best study destination in the world. They are committed to providing world class education and fostering social bonds to ensure international students receive nothing but the best.
With so much to offer, from welcoming overseas students from different parts of the globe, making them feel at home, offering opportunities, jobs, to achieving their goals, Ontario can be alluded to as one of the best student hubs in the world. For international students who are all about innovative thinking, open discussions, with a willingness to try new ideas, there's no better place than Ontario for higher education.
Do you wish to know more about studying in Ontario and what else it has to offer? Our expert counsellors will walk you through the process.