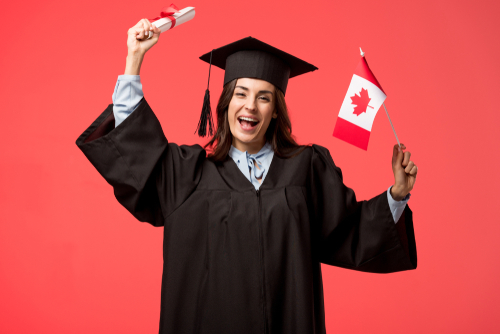 Hosting over 600,000 overseas students, Canada is a haven for international students wanting to pursue their higher studies and set foot into a promising future.
Aside from the country's reputable institutions and diverse cultures, Canada is the second largest country in the world, and the government is constantly welcoming Filipino students to study masters and research courses. Filipino students can comfortably exchange their thoughts and share knowledge with fellow domestic students, as the Canadian student population speaks English in common after French.
As per 2019 data, over 7500 Filipino students were enrolled in a Canadian Institution with a valid study permit.
Canadian Bureau for International Education (CBIE) research states that 60% of international students are eager to become permanent residents of Canada post their academic tenure. This data clearly shows the future prospects of international students studying in Canada.
If you are a student who has completed a bachelors degree and are looking to pursue a postgraduate course, Canada is the best destination to study at to kick-start your career. Read on to know everything about studying masters course in Canada.
Requirements to study master's in Canada
A minimum eligibility score in your bachelors (each Canadian institution has an eligibility score).
Proof of English language proficiency test score - preferably IELTS or TOEFL.
The duly filled application form.
A copy of education qualification documents.
Statement of purpose.
Proof of financial support to study masters in Canada.
Some institutions might ask you to take up an evaluation test to verify the education documents submitted.
The Canadian central office assesses all International students' applications to cross-verify the minimum requirements. The application is then sent across the respective institution to evaluate the education qualification (on meeting the requirements). If the institution accepts your application, you will be notified with a letter of admission. This letter is imperative to apply for student permit and scholarships (if any).

Types of master's courses in Canada for international students
Master's degrees in Canada are termed graduate degrees, and Canadian institutions offer masters courses in two types:
Course-based master's degree - This course demands international students to complete a graduate level program. Masters by coursework is of a duration of 1 to 2 years of study period, and the program provides professional training or advanced specialist in an interdisciplinary area.
Research-based master's degree - This course requires international students to complete a thesis and coursework. The course duration of research-based master's degrees is 2 years, yet certain research types may increase the course tenure.

Benefits of studying a 1-year master's in Canada
Lately, the 1 year master's courses in Canada are gaining popularity amongst international students. The following are few reasons why students are fascinated to enrol in 1 year master's courses in Canada:
All 1 year masters courses in Canada are relatively affordable than the usual master's program in Canada.
Canada houses top universities in the world, offering masters courses in diverse fields such as journalism, technology, and medicine.
The Canadian student permit process is straightforward.
Filipino students can curb their living cost and tuition fee with 1 year masters courses in Canada.
The research-based practical curriculum in 1 masters courses in Canada leads to internships, industry placements, and co-op placements.
International students who have successfully completed their course can apply for a work permit (post-graduation).
The student permit for 1 year masters courses in Canada allows students to work off-campus or on-campus for up to 20 hours a week.
Benefits of studying a 2-year master's in Canada
Completing a masters course in Canada opens up job opportunities in an array of top organisations in Canada. International students applying for the PGWPP (Post Graduate Work Permit Program) within 90 days of course completion are permitted to work anywhere in Canada, irrespective of the province.


Masters graduates in Canada are well-paid, and the average salary is CAD $78,564/Year. For sustainable growth and easy access to PR, Canada is one of the best destinations.


Canadian masters degrees are one of the most sought-after programs by students globally. The Canadian government boasts of its meticulously designed education system where it provides students with theoretical knowledge and research opportunities to gain hands-on experience.


The graduation rate in Canada is over 70%, while the unemployment rate in Canada is under 7%.
Top Master's Courses in Canada - Fees
| | |
| --- | --- |
| Masters courses' tuition fee in Canada | Fees |
| Visual and performing arts, and communications technologies | CAD $15,709 |
| Humanities | CAD $14,220 |
| Social and behavioural sciences, and legal studies | CAD $15,919 |
| Law | CAD $18,455 |
| Business, management, and public administration | CAD $26,351 |
| Executive MBA | CAD $55,578 |
| Regular MBA | CAD $40,032 |
| Physical and life sciences and technologies | CAD $15,959 |
| Mathematics, computer and information sciences | CAD $18,391 |
| Engineering | CAD $21,559 |
| Architecture | CAD $26,524 |
| Agriculture, natural resources, and conservation | CAD $14,819 |
| Dentistry | CAD $24,582 |
| Nursing | CAD $16,312 |
| Pharmacy | CAD $12,532 |
| Veterinary medicine | CAD $9,081 |
| Optometry | CAD $14,436 |
Do you want to know more about studying masters course in Canada? Just fill in the contact us form! Our AECC Global's expert counselors are here to guide you in helping you choose a course and institution that matches your career inspirations. Get in touch now!