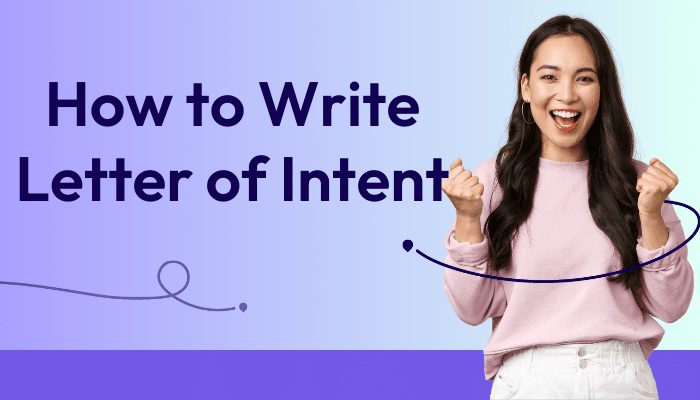 A Letter Of Intent, also known as a Statement Of Purpose (SOP) or application essay, is a document that most universities abroad ask for when you apply to top universities. Writing a letter of intent is important because it helps the university admissions committee understand your intent behind studying there. It is also considered an essential document when you apply for a job. However, before proceeding with all that, you should first learn all the details about a letter of intent for studying abroad, a letter of intent sample, etc.
Key Components of a Letter of Intent

While writing a letter of intent, you should follow a certain format. We have explained the key components of a letter of intent below for your ease of understanding.
Introduction: In this section, you can briefly explain yourself and your purpose for writing the letter.
Academic/Professional Profile: You can include all your academic and professional achievements here.
Why This Course: You can explain your reasons for choosing the particular course.
Long/Short-Term Goals: You can state your long-term goals, like what motivates you to be consistent in your goals, and short-term goals, like your commitment to the course.
Conclusion: Here, you can conclude your essay by mentioning why you should be accepted for the course.
How to Write a Letter of Intent?

When the admission committee of a particular university go through your letter of intent, they will expect a few points in it. You will be able to structure a powerful letter of intent if you include answers to a few questions. These questions are explained below.
Why you wish to study abroad: Though the answer to this question will be the same for all students, you should write something different and unique. Avoid writing reasons like you wish to leave your home country or your parents asked you to study abroad. Instead, write strong answers like you wish to contribute to the growth of a particular country and industry by studying abroad or that you wish to learn about a particular culture.
Why your personality is a match for studying abroad: Here, do not write that you are extremely social or that you are an extrovert. Instead, write how you fit into all groups, your appreciation of all cultures, your interest in being part of a global community, etc.
Whether you have any previous international experience: Universities may highly regard the fact that you have lived abroad previously. You can write about how you are adaptable and your ability to fit into different cultural groups.
Tailoring Your Letter of Intent for Your Chosen Country

Tailoring your letter of intent for your chosen country is important, especially if you are applying for a job, scholarship, visa, or admission to an educational institution. Here are some steps to help you customise your letter of intent for a specific country.
Research the Country: Start by thoroughly researching the country you are applying to. Understand its culture, values, and any specific requirements or expectations for a letter of intent.
Address the Recipient Appropriately: Begin your letter by addressing the recipient in a culturally appropriate manner. In some countries, formal titles and last names are preferred, while in others, first names may be used.
Mention the Country's Unique Features: Highlight why you are interested in that particular country. Mention its unique features, such as its culture, history, economy, or educational opportunities, and explain how they align with your goals and aspirations.
Tailor Your Language: Use language that is specific to the country you are applying to. For example, if you are applying to a German-speaking country, consider including some phrases or sentences in German to show your interest and effort.
Emphasise Cultural Compatibility: Discuss your cultural adaptability and how you plan to integrate into the local community. Mention any previous experiences you have had in the country or with its culture.
Address Specific Requirements: If the country has specific requirements for letters of intent, such as mentioning your intended duration of stay, financial stability, or reasons for choosing that country, make sure to address these in your letter.
Showcase Your Knowledge: Demonstrate your knowledge of the country's current affairs, politics, and any recent developments that may be relevant to your application. This shows that you are well informed and genuinely interested.
Highlight Relevant Skills and Experiences: Tailor your letter of intent to match the specific requirements of your application. If you are applying for a job, emphasise skills and experiences that are directly relevant to the position. If you are applying for a scholarship or admission, focus on your academic achievements and goals.
Proofread and Edit: Ensure that your letter of intent is free of spelling and grammatical errors. Use the correct formatting and language style for the country you are applying to.
Seek Feedback: Before finalising your letter of intent, have someone familiar with the country's culture and application process review it. They can provide valuable feedback and suggestions.
You should remember that each country may have its own cultural norms and expectations for formal written communication, so writing a letter of intent accordingly can greatly improve your chances of a successful application.
Sample Letter of Intent

We have given a letter of intent sample below so that you can get an idea of what are the points to be included and what are the ones that shouldn't be included.
From,
[Name of applicant,
Address,
Contact Details]
Date………………………..
To,
[Name of Recipient,
Designation/Department,
Name of Institution/Organisation,
Address,
Contact Details]
Subject- ………………………………………………………………………………..
Respected Sir/Madam,
Here's hoping that this letter reaches you in good spirits. I am writing to express my sincere interest in pursuing [Degree Program Name] at [University/College Name] in [City, Country]. It has long been my dream to study abroad and experience the rich culture and academic excellence that your institution offers.
Ever since I began my educational journey, I have been driven by a passion for [Your Field of Study]. This fascination has led me to excel in my coursework, participate in research projects, and actively engage in extracurricular activities related to my chosen field. I believe that studying at [University/College Name] would provide me with the ideal environment to further develop my knowledge and skills in [Your Field of Study].
One of the reasons I am drawn to [University/College Name] is its outstanding reputation for [mention a specific aspect or program that interests you, like research opportunities, faculty expertise, or innovative curriculum]. I am particularly excited about the opportunity to work closely with renowned professors in this field.
Moreover, I am confident that the multicultural environment at [University/College Name] will allow me to expand my horizons and gain a deeper understanding of global perspectives. I am committed to contributing positively to your diverse academic community and fostering cross-cultural networks.
As for my academic qualifications, I have enclosed my transcripts, standardised test scores, and letters of recommendation as per your admission requirements. My academic achievements reflect my dedication to excellence, and I am fully prepared to meet the academic challenges of [University/College Name].
Furthermore, I am eager to immerse myself in the culture of [Country Name], learn its language, and build meaningful connections with my fellow students and community members. I see this as an integral part of my personal growth and development.
In conclusion, I am excited about the possibility of studying at [University/College Name] and am committed to making the most of this opportunity. I would like to thank you for considering my application and for providing me with the chance to be a part of your esteemed institution.
Thank you for your time and consideration. I look forward to the possibility of joining the [University/College Name] family and contributing to its academic community.
Sincerely,
[Your Name]
While a letter of intent is an essential part of every study abroad application, it is important to learn about the common mistakes committed by students. Given below are some common mistakes to avoid by Filipino students studying abroad.
Do not copy from any source. It should be remembered that universities follow a strict plagiarism check.
Do not make grammatical and spelling mistakes in the essay. You should also use an easy-to-understand language.
You should neither brag nor sound desperate.
Do not use cliche sentences or words.
Do not lie in your essay, nor forge any detail.
Tips to Consider While Writing a Letter of Intent

We have included a few tips you can consider when writing a letter of intent so that you have a higher chance of writing an impressive letter.
Do not deviate from the topic and the format of your letter.
Craft a powerful start to your letter.
Avoid exaggerating and make your letter crisp and neat.
Research well about the university and course.
Include at least three reasons why you are a fit for the particular study program.
Proofread your letter and ensure that there are no spelling and grammatical errors.
Final Checks Before Submission

Before you send your final letter of intent, you should ensure that you have included a few details in the essay. This checklist is given below.
Personal background.
Financial background.
Short-term and long-term goals.
Why you should be selected for the particular course and university.
Extra-curricular activities.
Papers submitted, if any.
Interests and hobbies.
Academic achievements.
Professional experiences.
Reasons for choosing the particular university.
Why you are interested in the particular field of study.
Projects you have worked on.
Awards and achievements.

We hope that you have gathered enough information about a letter of intent for studying abroad. If you need further clarity on anything, you can contact AECC.

We have trained counsellors to guide you through the entire process of studying abroad, from selecting the best course, country and university for you to visa guidance.
FAQ
1. What is a Letter of Intent, and why is it important for studying abroad?
A letter of intent is an essay that is required for admission to most universities abroad, where you explain your intention behind choosing a university and study program.
2. What should I include in my Letter of Intent?
You should include details of your personal, professional and financial background, short and long-term goals, academic achievements, etc.
3. How can I tailor my Letter of Intent to my chosen country and program?
You should research the country and mention the country's unique features to tailor your letter of intent to your chosen country and program.
4. What are some common mistakes to avoid when writing a Letter of Intent?
Copying from other sources, making grammatical and spelling errors, bragging about yourself and your accomplishments, faking your achievements, etc., are a few mistakes you should avoid when writing a letter of intent
5. What are a few tips to consider while writing a letter of intent?
Crafting a powerful start, researching the university and course, proofreading your letter before submitting, etc., are a few tips to consider while writing a letter of intent.