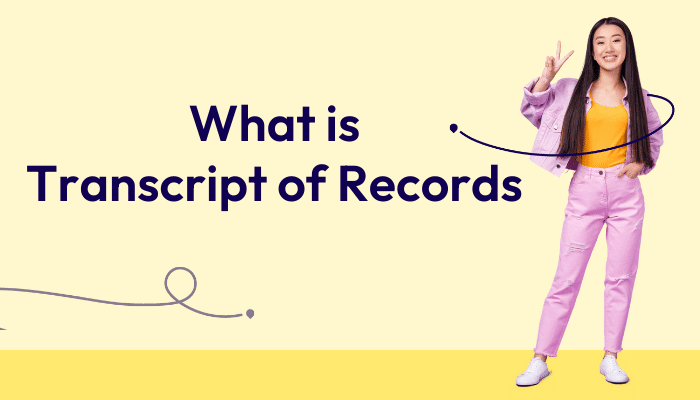 When you plan to study abroad, you will have to deal with a little bit of paperwork. The transcript of records is one of the important documents you need to submit when you apply for universities abroad. Whether you apply for a Certificate program or a Master's program, you will be required to submit the same.
What is a transcript of records? How do I request transcript of records? What is meant by the ECTS transcript of records? How do I escape transcript fraud?
If you are looking for answers to these questions, you can read the blog completely. We have included all information related to the transcript of records, its legal aspects, components of academic transcripts, and much more.
What is A Transcript of Records?

A Transcript of Records, often abbreviated as ToR, is a crucial document required during the application process for studying abroad at any university. It is particularly essential for students participating in exchange programs, as they may need an additional official transcript of records at the end of their study period, which is completed by the university where they attended courses. The ToR serves as an academic record, providing a comprehensive list of the course units undertaken, the exams or tests successfully passed, and the corresponding credit points earned. Within this document, you can find detailed information, including course titles, durations, grades obtained, and credit allocations based on examination results. Referred to as "academic records," the Transcript of Records serves as an official and authentic record of your academic accomplishments, comprising your achievements throughout your educational journey from school and college to university. In essence, an academic transcript for studying abroad is a detailed document provided by educational institutions that summarises your academic history, making it a vital tool for academic and professional pursuits.
Components of a Transcript of Records

A transcript of records includes several documents. Though there may be changes in the documents required depending on the university and study program, a few documents may be required in all cases. The components of a transcript of records are given below for you to take a reference from.
Name of the university or institution.
Name of the student.
Date of birth.
Roll number of the student.
Duration of the course.
Marks/grades obtained in the course.
Accreditation.
Name of the student's parents.
Year of graduation.
Name of the degree.
List of the courses.
Total aggregate of the marks/grades.
How to Request a Transcript of Records?

Requesting a transcript of records to study abroad in the Philippines typically involves a specific process that may vary slightly from one educational institution to another. However, here are the general steps you can follow to request a transcript of records.
Contact Your Educational Institution: Begin by reaching out to your school, college, or university's registrar's office or academic affairs department. Inquire about their specific requirements and procedures for requesting a transcript of records. You may need to visit their website or contact them directly for this information.
Complete the Request Form: Many institutions have a designated request form for transcripts. Fill out this form accurately, providing your personal information, including your full name, student ID or registration number, and contact details.
Pay Transcript Fees: There is usually a fee associated with requesting a transcript of records. Confirm the payment method and amount with your institution. You may need to pay in cash, via bank deposit, or through an online payment system, depending on the institution's policies.
Provide Authorisation, If Required: Some institutions may require authorisation or a written consent letter if someone other than the student is picking up the transcript of records. If applicable, ensure you follow these additional requirements.
Wait for Processing: The processing time for transcripts can vary, but institutions often aim to complete the request within a few days to a couple of weeks. It is essential to plan your request well in advance if you have a deadline to meet.
Pick Up or Delivery: Once your transcript of records is ready, you can either pick it up in person from the institution's office or request delivery, usually through a courier service. Be prepared to show identification when picking up your transcript.
Verify the Transcript: Before leaving the institution or accepting the transcript from a courier, carefully review the document for accuracy. Ensure that all your grades, courses, and other information are correct.
Additional Copies: If you need multiple copies of your transcript of records, request them at the same time to avoid future problems. Additional copies may require extra fees.
Store Your Transcript Safely: Transcripts are important documents, so keep them in a safe and secure place. You may need them for various purposes, including job applications, further education, or immigration.
Remember that the specific steps and requirements can vary, so it is crucial to follow the guidelines provided by your educational institution. Always maintain clear communication with the registrar's office or relevant department to ensure a smooth and successful transcript request process.

Legal Aspects of Transcript of Records

Transcripts of Records are important documents in the field of education, and they may have various legal aspects and implications, including
Academic Integrity
Privacy Laws
Verification and Authentication
Employment
Educational Fraud
Accreditation
Transcript Fraud
Transcript Access
Transcript Retention
Discrimination
It is essential to understand that the legal aspects of transcripts can vary by country and region, as education systems and regulations differ. Therefore, individuals and institutions must comply with the specific laws and regulations governing education and transcripts in their jurisdiction. Misrepresenting or manipulating transcripts can lead to severe legal consequences, so it is important to maintain integrity in all matters related to educational records.

Using Transcript of Records for Studying Abroad

Transcripts of Records are of great importance for students planning to study abroad. These documents serve as a critical bridge between your previous academic history and your aspirations for higher education in a foreign country. Admissions committees at international universities rely on ToRs to evaluate your academic qualifications and ensure you meet the prerequisites for the chosen programs. Moreover, ToRs can be important in securing scholarships and financial aid, making education abroad more accessible. Additionally, ToRs play a great role in the student visa application process, providing evidence of your intent, academic background, and adherence to eligibility requirements. In short, ToRs are an essential element of a successful study abroad journey, facilitating admission, financial support, and visa approval while ensuring you are adequately prepared for your educational pursuits in foreign lands.
Transcript of Records in the European ECTS System
The Transcript of Records in the European ECTS (European Credit Transfer and Accumulation System) system is a standardised and essential document used across European higher education institutions. Here are the key aspects and components of the Transcript of Records in the ECTS system.
Personal information
Institutional information
Program of study
Academic calendar
Course details
Grades and results
ECTS credits
Grading scale
Transcript key
Authorised signatures and seals
Additional information
Dealing With Transcript Fraud

It is important for you to know the ways to deal with transcript fraud. We have listed a few tips below for you to ensure that you do not fall prey to fraud and scams.
Verify educational institutions.
Request official transcripts.
Secure your academic records.
Be aware of scams.
Report suspected fraud.
Check for errors.
Use verification services.
Educate yourself.
Maintain integrity.
Stay informed.
Seek legal assistance.
Thus, there is no doubt that you need to submit a transcript for studying abroad. If you feel the need for more information on the transcript of records, you can contact AECC. We can offer you one-to-one counselling on everything related to studying abroad. Do not hesitate to contact us for FREE assistance!

We can offer you one-to-one counselling on everything related to studying abroad. Do not hesitate to contact us for FREE assistance!
FAQ
1. What is a Transcript of Records, and why is it important?
A transcript of records is a collection of documents containing information about your course, scores, exams passed, etc. It is important as the institutions need to know about your academic and unacademic background.
2. What information does a Transcript of Records include?
A transcript of records contains information like your GPA, academic program details, institution details, etc.
3. How can I request a Transcript of Records from my university?
You can contact your college or university online and request to get your transcript of records. A detailed explanation of the same is given in the blog.
4. What is the role of a Transcript of Records in studying abroad?
A transcript of records has a role to play in your credit transfer, visa and immigration, university admission, etc.
5. How is a Transcript of Records used in the European ECTS system?
The transcript of records is used in the European ECTS system for credit allocation, course details, GPA, etc.
6. What is transcript fraud, and how can I avoid it?
Transcript fraud involves dishonest activities related to academic transcripts to represent academic achievements. Using official channels, reporting suspected fraud, seeking legitimate options, etc., are ways to avoid it.