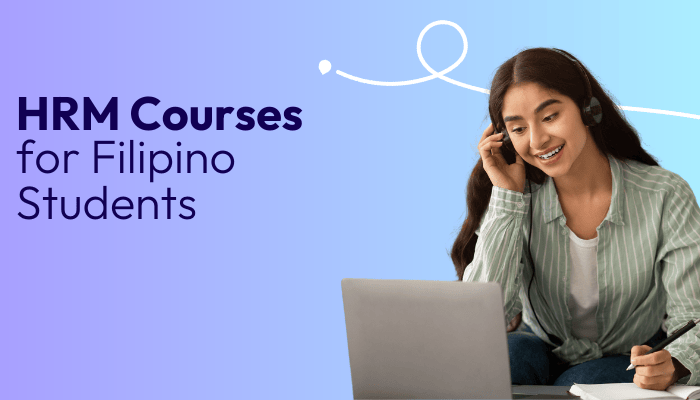 Opting for Human Resource Management (HRM) is a smart career decision for students with a passion for business. HRM courses offer opportunities for a career in the HR sector and various other business domains, given the emphasis on strategy, people management, and client relationships. HRM, which stands for Human Resource Management, is a specialized business management field that revolves around recruitment, hiring, training, deployment, and overall employee management within an organization, commonly known as HR or Human Resources.
Journey Through HRM Courses: An Exploration of Knowledge

HRM courses are educational programs intended to equip students with expertise in the dynamic business domain of human resources and employee management. These courses offer instruction and training in various subjects such as labour law and relations, employee recruitment, organisational communication, management theories, and other essential skills that make students valuable assets for any organisation. This blog aims to provide Filipino students with information about HRM courses in top universities worldwide, covering course definitions, subjects, and recommended institutions for studying HRM abroad. Keep reading to explore further.
Effective Human Resource Management is crucial for any successful organization, as people are its most valuable asset. Consequently, Human Resource Management (HRM) jobs have seen a rise in demand both in the UK and internationally. HR managers play a pivotal role in providing clear guidance and direction to employees, offering a positive and supportive work environment. The important HRM responsibilities encompass hiring and developing employees through training, incentives, benefits, and performance evaluations, as well as handling administrative services and disputes and facilitating communication across all levels of the organization.
To meet the growing demand for skilled HR professionals, organizations are increasingly looking for applicants with a postgraduate degree in HRM. It is always a good idea to pursue a Master's in the discipline as a higher qualification would help you get a well-paid job easily. Earning accreditation from the Chartered Institute of Personnel and Development (CIPD) further prepares you with a Master's in Human Resource Management for the professional world.
Scope of HRM Courses for Filipino Students
Opting for a degree in Human Resource Management offers a multitude of possibilities, as HR skills have a scope in various industries. This degree opens doors to diverse career paths, including roles like office manager, Human Resources (HR) officer, and occupational psychologist. A degree in HRM courses equips you to handle a wide range of processes such as recruitment, performance management, training and development, and more. Moreover, it extends its benefits beyond traditional HR careers, helping graduates to pursue positions as business advisers, mediators, sales executives, life coaches, and various other roles. Many aspects of Human Resources can be applied in other professions as well.
Key Subjects in HRM Courses
HRM courses in the Philippines offer a specialized, multi-disciplinary curriculum that comprehensively covers all aspects of HRM. Although specific syllabuses may vary across universities, the core content of the degree remains the same everywhere. Typically, these degrees are structured into several semesters, with Bachelor's programs spanning six semesters and Master's programs taking four semesters to complete. Throughout the course, students receive instruction in essential HRM subjects and engage in summer projects and real-time industry training to enhance their practical skills.
We have listed a few key subjects in HRM courses below for your convenience.
Legislation on Labor Relations and Industrial Relations
Management of Human Resources
Environment of Business
HR Audit and Human Capital Management
Strategic Planning
Information System for Human Resources
Planning and Development of Human Resources
You may also have to opt from a few elective subjects for HRM courses. They are given below.
Advertising Management
International Human Resource Management
Training and Development
Organizational Change and Development
Advanced Manpower Planning
HR Issues in Mergers & Acquisitions
Human Resource Management in Service Sector
HRM Courses and Job Opportunities

It is always a better idea to study Human Resource Management or HRM courses abroad. If you study abroad, you will find an increased career scope as well. Given below are a few popular HRM courses you can opt for.
Employee Engagement & Retention
Strategic Planning
Learning & Development
Talent Acquisition
Structure of the HR Function
Workforce Management
Total Rewards
Technology Management
Organizational Effectiveness & Development
Diversity & Inclusion
Employee & Labor Relations
Corporate Social Responsibility
Risk Management
HR in the Global Context
US Employment Law & Regulations
We have tabulated a few popular universities offering HRM courses abroad so that you can get a list of the top universities to study abroad easily.
| | |
| --- | --- |
| Name of Course | Name of University |
| MSc in Human Resource Management | University of Edinburgh |
| MA in Human Resource Management | University of Leeds |
| MSc in Human Resources and Organisations ( HRM stream ) | London School of Economics and Political Science ( LSE ) |
| MSc in Human Resource Management | University of Liverpool |
| MSc in Human Resource Management | Cardiff University |
| MSc in Human Resource Management | Kingston University London |
| MSc in Human Resource Management with CIPD | Manchester Metropolitan University Business School |
After completing your study program in Human Resource Management, you will find several HRM roles to choose from. HRM is a good career choice abroad, and you will surely find several unique opportunities that are equally better paid.
Salaries for the HRM Professional
| | |
| --- | --- |
| Type of Experience | Salary in USD |
| Entry-Level | $19,000 - $23,000 |
| Mid-Level | $30,000 - $45,000 |
| Senior | $58,000 - $70,000 |
| Expert | $75,000 - $90,000 |
| Lead | $91,000 - $101,862 |
We have given a few popular HRM career choices below for your reference.
Human Resources officer
Occupational Psychologist
Office Manager
Training and Development Officer
Business Adviser
Online and On-Campus HRM Courses
HRM courses are not those which you can study just on-campus. There are advanced HRM courses as well. There are several online HRM courses available which are offered by top universities abroad. A of them include
Human Resource Management: HR for People Managers at the University of Minnesota.
Human Resource Management and Leadership at Macquarie University.
Preparing to Manage Human Resources at the University of Minnesota.
Conclusion

We hope that you would have gathered at least a surface idea about studying HRM courses abroad. If you have any further questions or doubts, you can contact AECC's counsellors. You will get FREE individualized information and profile assessment so that you can apply for the course and university where you have better chances of getting admission.
FAQs

What is Human Resource Management (HRM)?
HRM or Human Resource Management courses are educational programs that are designed to make students experts in every changing business area of human resource or employee management
What are the key elements of HRM?
Workforce Planning and Recruitment
Employee Development and Training
Performance Management and Evaluation
Compensation and Benefits Administration
Employee Relations
What are some career paths in HRM?
Human Resource Officer
Office Manager
Business Adviser
Occupational Psychologist
Training and Development Officer
What are some recommended HRM courses for beginners?
Human Resource Management: HR for People Managers
Human Resource Management and Leadership
Preparing to Manage Human Resources
What are some recommended advanced HRM courses?
Advanced Program in Human Resource Management
Executive Program in Human Resource Management
Who is best suited for a career in HRM?
People who have a better methodical approach to things and those with good communication skills are best suited for a career in HRM
How can I determine if a career in HRM is right for me?
If you know how to tackle complex problems concerning people and are tactful, you can determine whether a career in HRM is right for you.