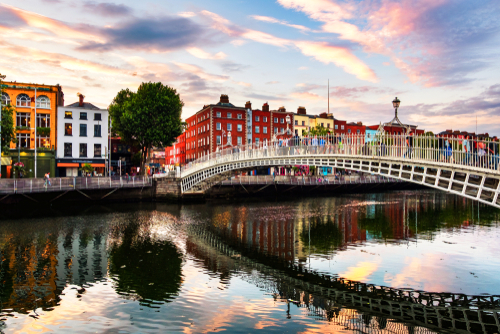 Ireland, an island nation, is also known as the Emerald Isle for its beautiful colours and vibrant character. Surrounded by a jagged coastline, hills and valleys, the beauty of this country is a real treat to the eyes. Ireland is a cosmopolitan city but the ancient heritage is still intact that makes it the perfect place to explore and start a new chapter in your life.
There is no dearth of places to visit in Ireland as a student as the countryside offers enchanting views and the city offers its enigmatic nightlife. The Irish pubs, music and nightlife have been popular among the locals as well as international students and are often spoken about in high spirits. Well, aren't you excited to visit some popular places & Ireland tourist spots as an international student?
Read on as we take you through the top tourist spots & counties of Ireland you should visit as an international student:
Dublin
Dublin, the capital of Ireland is ancient, picturesque but encompasses modern amenities too. Dublin is home to earthy pubs and lively music which make it a popular destination for international students to chill out and have fun. The crowd is young and Dublin is fast growing as one of the most popular cities in Ireland. Home to the National Leprechaun museum, the Dublin zoo, Writers' museum, National gallery, and the Botanical gardens, there are plenty of places to explore. Whether you are a museum and trivia aficionado or the party animal, Dublin would make sure you don't have a single dull moment when you are there.
Cork is the cultural capital and the second largest city in Ireland. It showcases some exquisite Gregorian architecture and marvellous views of the countryside. One can visit the Red Abbey or cobble through the alleys of the St Patrick street for some visual treats or head over to the English market for some edible treats. The Cork Opera house is home to the Cork Jazz festival which is visited by famous musicians from all over Europe. The art calendar in Cork is always brimming with events like the Film festival, Jazz festival and live music events. So, if you are an art fan or just a tourist trying to find your arty side, a visit to Cork is a must for you as an international student.
If you are a sport enthusiast, then drive off the west coast of Ireland to the Aran Island situated at the Galactic bay. The island is famous for water sports and rides but the main attraction is the fact that it preserves its rich heritage and language. One can rent a bike and ride around some museums, cliffs, lighthouses, and also explore native handicrafts. The beauty of the island lies in its untouched Irishness and would make you fall in love with the culture. Don't be surprised if you come back to the city and begin greeting people with a "maidin mhaith" instead of plain "Good morning".
Although Belfast is not a part of Ireland, it is a short drive into neighbouring Northern Ireland, and is definitely a place that you should visit if you study in Ireland. Belfast has a rich history which is depicted through its murals all around the West of Belfast. Also called "Writings on walls", these murals talk about historical events, politics, loyalty and their fight for freedom. They also talk about modern day sport icons, football and Irish achievements.
Galway is also known as the festival capital of Ireland and has a festive look to it around the year. Be it oysters or jazz or literature, there is a celebration for everything. Some of the well known festivals celebrated here annually are the Galway oyster fest, annual Arts festival, the Tulca festival of visual arts, the Annual film festival and the popular Galway races. Galway's selection as the European Capital culture of 2020 makes it one of the most sought after tourist destinations and is surely a must visit place.
Maynooth is a quaint town located about 24 kilometres from the capital city of Dublin. Rich in architecture and cultural heritage, Maynooth has a beautiful old city charm about it. English is spoken commonly and it would be a breeze to get going here. Home to St Patrick university, the town is filled with a varied student population, making it fun to explore and hang out. You can shop at popular chains like Kildare and Meath or walk down the beautiful Royal canal for a serene evening.
Giant's Causeway - Northern Ireland
If you are a student in Ireland, how can you miss the Giant's causeway which is a UNESCO heritage site? Considered to be the result of a giant eruption of a volcano, it has over forty thousand basalt rocks, intertwined with each other making it a wonderful place to visit. You walk around the cliff and relax against the huge waves hitting the coast or merely enjoy the pretty scenery.
Besides the beautiful scenery all around, the country is an eclectic mix of modern with heritage, making it the best of both worlds.

We at AECC global Philippines wish you a very happy term in Ireland as a student and a tourist. Get in touch with our counsellors to know how you can get an admit into your dream university in Ireland.