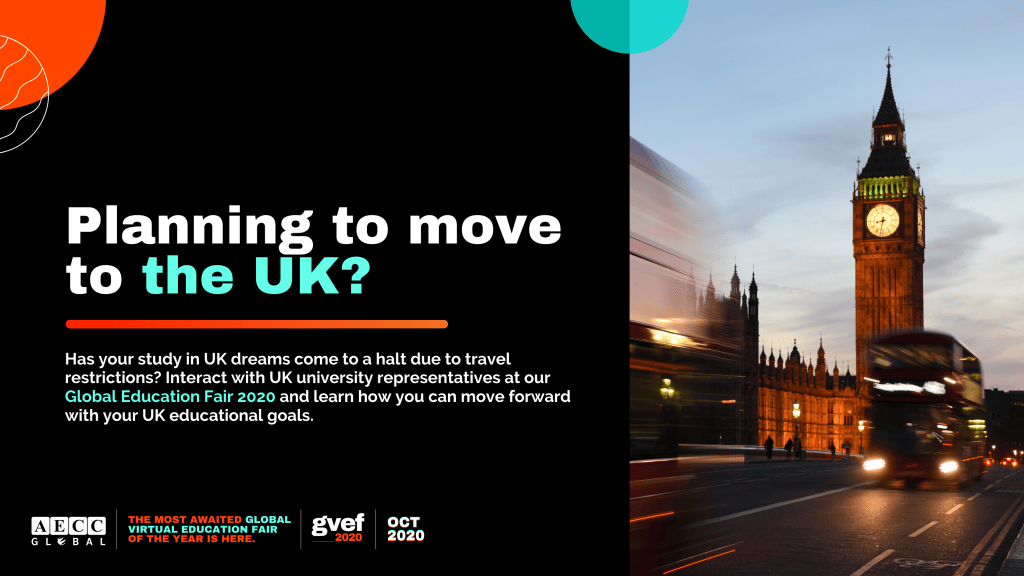 Interact with UK university representatives at AECC Global's GVEF and learn how you can move forward with your UK educational goals.
Studying abroad is an exciting and life-changing opportunity to experience the best education in a competitive and culturally diverse environment.
Employers are far more impressed with an international degree and with the skills you develop from studying abroad.  A pandemic shouldn't be a reason that you give up on this incredible life-changing adventure.  
Known for its exceptionally high standards of education, the United Kingdom is one of the top study destinations and a host to the largest international student communities in the world. With scenic landscapes and historic sites, the UK is the home to numerous universities for International students offering state of the art infrastructure and exemplary research opportunities. 
It offers a plethora of courses that are flexible and are recognized around the world specializing in MBA, arts, medicine, and STEM subjects. The UK has over 7,00,000 international students applying to their universities every year and had an international student population of 4,85,645 in 2019. 
It is also home to some of the best student cities in the world, offering an incredible study and work experience. Some of the cities include London, Edinburgh, Birmingham, Manchester, Coventry, and  Glasgow.
The UK education system
With the oldest and esteemed universities, the UK has produced world-renowned personalities like Alfred Hitchcock, Alexander Fleming, and Alexander Graham Bell.
Four out of 10 of the top universities in the world are from the UK. Degrees from the Uk are recognized Globally and graduates from the Uk are in High demand in the global job market.
What makes students' study journeys more comfortable nowadays is the education system's flexible courses. These courses are shorter in duration allowing students to save time and money. The courses are designed to be interactive and to help students develop a variety of skills and critical thinking. 
Moreover, international students are in demand in the UK job market. To add to this piece of good news, the Uk government allows International students to stay and work in the UK after graduating. The UK grants post-graduate work visas for international students willing to stay and work in the UK. 
The post-graduate work visa now allows students to work in the UK for up to 2 years after a Master's degree or up to 3 years after a Ph.D. this changed the visa from 4 months to two years allowing International students to stay and work in the UK. This gives international students the opportunity to stay and work in the UK to build a successful career.
If students wish to stay and work longer than this period, they can apply for the skilled worker's visa. 
The UK Government offers Scholarships to study in the UK for International students helping students on their path to their dream career. Some of them are listed below,
Chevening Scholarships
Commonwealth master scholarships
Scotland's Saltire scholarships
A.S Hornby's trust scholarship.
The top universities in the UK are listed below: [By Times Higher Education]
University of Oxford 
University of Cambridge
Imperial College London 
University College London
London School of Economics and Political Science.
The University of Edinburgh.
Studying in the UK under the present covid19 restrictions 
With the uncertainty of the current situation, the UK government continues working with the various educational institutions to guide International students. 
Some of the measures taken:
1. A blended learning will be undertaken with classes online with teachers supporting and guiding students. All face to face lectures will be implementing the social distancing guidelines. 
2. The applications for universities in the UK are being processed as usual. Students can commence their programs from wherever they are while waiting for their student visa. 
3. Students can apply for their student visas to the UK when they are confident that they can travel.
4. Student visas will also be extended with a grace period of one month for renewal. 
Suit up with GVEF 2020!
With the situation finally changing for the better, we at AECC are moving forward with our futuristic, one of a kind, informative, and refreshing Global Virtual Education Fair - GVEF 2020.
Our student-friendly virtual platform is super easy to navigate, and you can enter through literally ANY device! It's a one-stop solution for all your study abroad needs. 
At GVEF 2020 you can:
Get information about all university-related information & all other study abroad requirements.
Connect & interact with university representatives in real-time at their booths via dynamic interactive tools.
Attend interactive webinars & engage in live Q&A sessions with the universities.
Participate in the event from the comfort of your home accessing it through any device.
Let AECC Global guide you in this journey to the land of the Northern Lights, the Stonehage, Manchester, and many more exciting places in the UK. It's a one time opportunity to get back into the grid! So, don't miss out on attending our Global Virtual Education Fair this October 24. 
It's time to get future-ready! Register with us today!