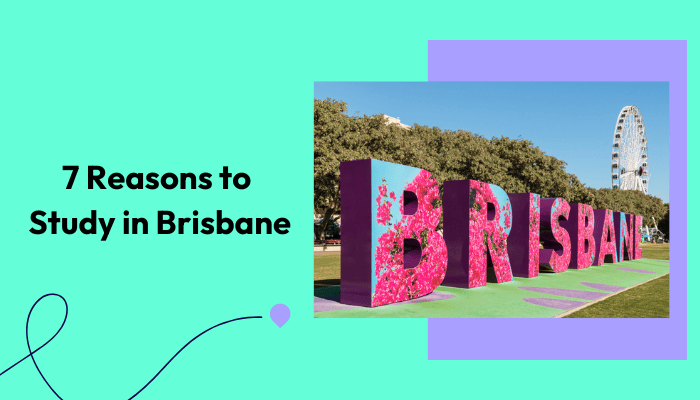 The Sunshine Capital of Australia, Brisbane, has long captivated many students' hearts. With its dramatic beaches, magnificent landscapes, and amazing city vibe, Brisbane is definitely amongst Australia's top cities for international students.
FACTS ABOUT BRISBANE

25th best student city in the world.
Best world-class education providers.
Home to a number of world-ranking universities.
Ranks 18th among the world's top university cities.
Houses international students from over 40+ nations.
Affordable place to study and live.
Multicultural melting pot.
Weather
Brisbane'sinternational students adore its excellent weather, lots of sunshine and hardly the presence of winter. Being in the temperate climate, the city enjoys basking under the sun with plenty of activities and time spent outdoor.
Best Universities in Brisbane
Brisbane is exceptionally welcoming to international students and has some of the world's top-ranked universities, making it a great destination to pursue your higher education. Students too love their campuses for its old charms fitting their student life. Here is a comprehensive list of the best universities in Brisbane for international students:
| | | | | |
| --- | --- | --- | --- | --- |
| Brisbane University List | Year of Establishment | No.of. Students | QS World University Rankings | The World University Rankings |
| The University of Queensland | 1909 | 55,310 | 46 | 66 |
| Queensland University of Technology | 1989 | 52,510 | 217 | 179 |
| Griffith University | 1971 | 49,600 | 303 | 201 |
| The University of Southern Queensland | 1969 | 27,563 | 701-750 | 601 |
| Southern Cross University | 1994 | 20,330 | 751-800 | 601 |
| University of the Sunshine Coast | 1994 | 18,150 | 801-1000 | 601 |
Weekend getaway
Students too deserve to unwind far from books and assignments. There are heap of places to explore and enticing curious minds discovering the many wonders a stone thrown away from Brisbane. The city is also the main access point to other popular destinations such as Surfer's Paradise, Gold Coast and the rest of Australia.
Friendly atmosphere
The community vibe enables students not only feel welcomed in the city but also be part of the vibrant city. For example, the City Welcome Festival, known as the largest orientation day in Australia. Even better, the strong presence of student clubs, associations and interest groups that creates avenues for students to mingle, network, meet new friends.
Multicultural events


Brisbane is known for its grand festivals and cultural activities. Students love to take part in these events as participants or volunteers, learning other peoples' culture and ways and appreciating the diversity that unifies the Brisbane community.
Amazing food and a busy nightlight
Being the cosmopolitan city that is Melbourne, locals and students alike love the multicultural spread of exotic authentic cuisine. From fine dining to neighbourhood eatery and kiosks, students enjoy the varieties of Chinese, Japanese, Indian, Middle Eastern, Latin American and many more. Going around the world while in Melbourne, your tummy at least.
Cost of living in Brisbane

Whilst amongst the biggest cities in Australia, Brisbane is comparatively cheaper than Melbourne and Sydney. Students are able to save up on their expenses but still live comfortably. Part-time jobs are also plentiful letting international students earn money while studying in Brisbane.
Here is a general overview of the cost of living in Brisbane for students:
| | |
| --- | --- |
| Monthly expenses to study in Brisbane | Approx. Cost to study in Brisbane |
| On-campus, fully catered accommodation | AUD 2000 - 2800 |
| Off-campus accommodation | AUD 480- 1760 |
| Public transportation | AUD 50- 100 |
| Food | AUD 320- 600 |
| Mobile and internet | AUD 80- 120 |