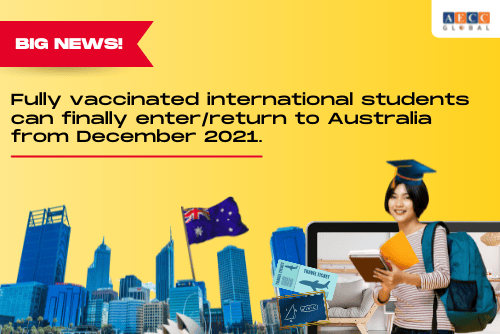 It's Official! International students are now allowed to enter Australia from December 1.
For the past eighteen months, Covid had impacted thousands of lives across the globe, and international students were restricted from travelling to Australia. However, on 22nd November 2021, Australian Prime Minister Scott Morrison announced that fully vaccinated international students will be allowed to enter Australia from the 1st of December.
So, if you have read this blog till now, we assume you would want to know if you can enter the Australian borders post-December for your studies.
Travel Protocols in Australia
The Federal Government of Australia enacted a mandatory border restriction on foreign travel due to the increasing COVID-19 cases worldwide. This left thousands of students stranded in Australia as they could not visit their home country due to fear of being stuck and unable to return to their study destination.
However, all that is set to change as Prime Minister Scott Morrison announced that fully vaccinated students would be able to come to New South Wales, Victoria and the Australian Capital Territory from December 1, 2021.
Note: The quarantine protocols still exist in the other Australian States.
Travel to Australia- Steps to follow
Though the quarantine rules differ from state to state, there are some points that you need to keep in mind before travelling to Australia as an international student:
Students entering the Australian border have to be fully vaccinated and provide the authorities with a valid certificate before entering the country.
The Australian Government has launched a new programme called the International Covid 19 certificate. The certificate has a unique QR code that can be accessed solely by the passport readers at the border.
The vaccination taken by international students has to be approved by The Therapeutic Goods Administration or the TGA.
We hope the afore-mentioned information helps you plan your journey to study in Australia in your favourite universities. The new border update is hopefully a relief for international students looking forward to joining their mates on-campus or looking to visit Australia for the first time.