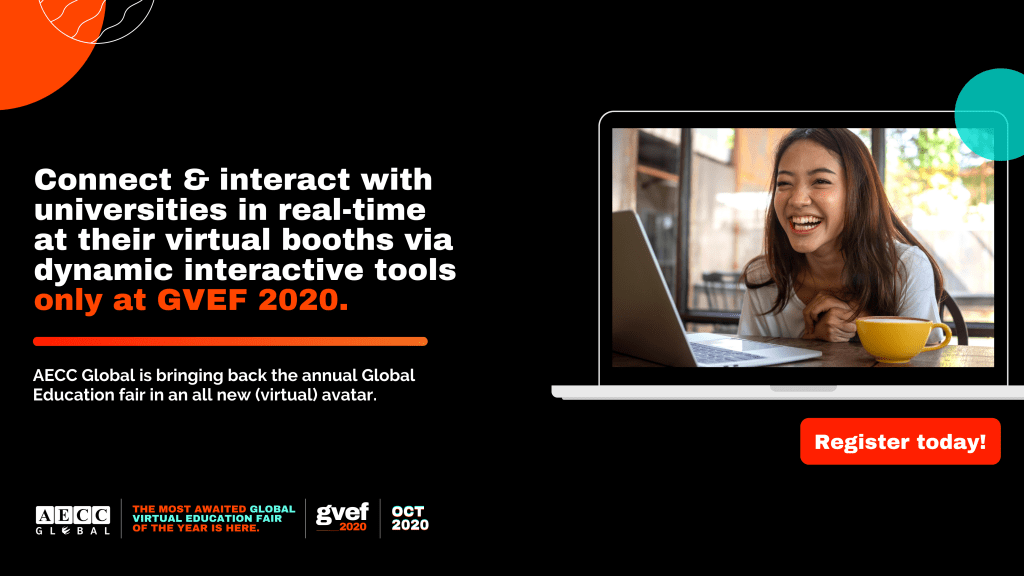 Meet Reputed Universities Representative Virtually at GVEF 2020.   
While the perks of pursuing higher education abroad are countless, the expectation of aspiring students like you is often a rewarding career, global exposure, and opportunities to examine and invest in some of the revered research centers in the world. 
To catalyze your study abroad preparations, we've listed down below some new benefits for international students aspiring to pursue higher education abroad:
Studying abroad can help you land a job in your respective domain within 60 days of your graduation.
International students are given much more responsibility at the workplace and can find themselves in leadership positions quickly.
International students with overseas work experience earn 5,000 $ more than their peers.
How excited are you to experience these facts in real-time? 
We know you have a sequence of queries before you put your shoes on and venture on your study abroad journey! And guess what? AECC Global Philippines Global Virtual Education Fair 2020 is a one-stop point to meet 100+ university representatives from all over the world. We'll have all your queries answered virtually, from the comfort of your home.
Want to know more about the other facets of GVEF 2020? Read on!
Studying abroad is eventually a lot more than coursework. It also provides you with an opportunity to adapt to a new environment and learn about the local people and culture.  
A rigorous study abroad plan is essential as it could ensure your study abroad process happens seamlessly. This will include thorough research on the availability of courses, the mode of learning (online/offline), the provisions to take up online classes at your convenient time (for blended courses), visa processing duration, PSWR, and accommodation details.
So, to ease your higher education planning process and to kickstart your future at a high note, we have organized the GVEF 2020 - a one of its kind Global Virtual Education Fair. You can comfortably get in touch with your favorite university's representative to clarify all your doubts about the destination, courses, and most importantly the university's safety measures for students in these unprecedented times.
A 3 step guide to accomplish your study abroad dreams: 
With umpteen number of options available, making a wise choice to pursue a bachelor's or master's degree abroad can be a complicated process for many students. Right after schooling, especially for students who want to pursue a bachelor's degree, it's a tricky situation to decide a destination as well as the right course. 
To ease this process, here are a few tips from AECC Global that would help students make a choice of their own seamlessly. 
Choose a major of your choice
If you are clueless about choosing a destination, consider opting for a bachelor's degree that aligns with your passion. Right from advertising to marketing, law, animation, fashion designing and engineering, you have a variety of options to choose from. In fact, you might discover some intriguing courses that are unheard of during the course research process. So, keep your fingers crossed and keep searching!
Opt for the right destination
Chances are more that you have decided on a specific destination where you wish to move and study. Perhaps, if you are unclear where to start from, you should probably continue doing research, checking cities and countries that have all the desired traits, whether it's the weather, transport facilities, living cost, study cost, and accommodation.
If your criterion of priority is geography, then you must narrow down your search using parameters such as career opportunities, work while you study options, and internship options. 
Choosing an educational institution
It is ideal to choose an educational institution only after deciding on the destination and a course of your choice. This sequential process will help you in reducing the time taken to filter the educational institutions that don't offer the course of your choice. While choosing amongst the best, you can compare with parameters such as international students' experience, research facilities and accomplishments, rankings of the last 5 years and most importantly the available mode of education - online courses, offline courses, and blended learning. GVEF 2020 is a great platform to connect with your favourite university's representative to have your queries answered right from the comfort of your home on October 24, 2020.
Adapting to a new lifestyle & culture while studying abroad
Delving into your favourite study abroad destination's culture will provide you with a holistic understanding of cultural differences which in turn help you interact comfortably with students from across borders. When you are studying abroad, there are possibilities to cross-culture - you may begin a new relationship with another country citizen,  look for ways to live with him/her during the course tenure. In such cases, you should keep an eye and mind open to observe how the country and university operates on students cross-culture activities. 
Crossing cultures also involves multiple things, from adapting how others eat and dress to how they effectively utilise their time and how they make time for people around them. You will over time learn to acknowledge varied cultural values, patterns, grasp cultural nuances while studying abroad and make the experience a wholesome one.
A stellar pathway to impress your future employers.
Higher education abroad can aid you in setting off your career on a high note while simultaneously enabling you to be more competitive in the workforce. It provides you with an opportunity to show future employers that you are open-minded and don't need a push to adapt and work in different geographical areas.
Did you know? 
Many fortune 500 organisations are on the lookout for bachelor's and master's graduates who have an international university experience. According to Erasmus Student Network (a non-profit organisation), 64 % of organisations consider having employees graduated from a foreign university, and 92 % of employers seek employees with transferable skills (transferable skills are abilities and talent that can be applied to a variety of industries and jobs - Leadership, Time Management, Analytical Skill, Creativity and TeamWork) that are gained from experience and flexibility to adapt to new challenges. 
Another survey by NAFSA - Association of International Educators found that over 40% of organisations had missed out on overseas business opportunities due to a lack of employees with global exposure. In many ways, higher education abroad is a powerful profile booster that shows organisations/employers that you possess all the mandatory skills required to achieve their business goals.
The perks don't end here. Each university in Australia, Canada, New Zealand, the U.S. and the U.K has its own unique specialisations. And has turned into a hub of potential graduates for employers around the world to source and recruit. 
So, why wait? 
Register for our Global Virtual Education Fair - GVEF 2020 to know about your favourite universities' course details, and scholarships, campus life, and more! 
Are you concerned about choosing from a wide range of in-demand courses?
No worries! We have listed down the top 10 in-demand courses from the 5 best study abroad destinations. Choose a course that aligns with your passion and get in-depth information from the university representatives at the GVEF 2020. 
| | | | | | |
| --- | --- | --- | --- | --- | --- |
| S.no | Australia | New Zealand | Canada | USA | UK |
| 1 | Accountancy | Animation | Computer Programming And Analysis | Cybersecurity | Accounting And Finance |
| 2 | Actuarial Science | Engineering | Project Management - It | Bioinformatics | Marketing And Strategic Management |
| 3 | Agricultural Sciences | Medicine | Aerospace Engineering | Data Science | Computer Systems Engineering |
| 4 | Architecture | Business Studies | Logistics And Supply Chain Management | Engineering Management | Cybersecurity |
| 5 | Biomedical Engineering | Forestry | Sports Business Management | Civil Engineering  | International Business Management  |
| 6 | Core Engineering | Hospitality | Biomedical Engineering Technology | Aerospace Engineering | Law |
| 7 | Earth Sciences | It And Computer Science | Embedded Systems Development | Molecular And Cell Biology | International Tourism Management |
| 8 | Computer Science And Information Technology | Art And Design | Mechanical Engineering Technology - Design | Construction Management | International Fashion Management |
| 9 | Psychology | Nursing | Big Data Analytics | Airport Engineer | Data Analytics |
| 10 | Tourism And Hospitality Management | Business, Healthcare And Sports Management | Graphic Design | Medicine | Molecular Microbiology |
Enter an all-new educational dimension this October 24, and experience a virtual education fair like never before. It's a one time opportunity to get back into the grid! So, don't miss out on attending GVEF 2020!
Connect & interact with universities representatives in real-time at their booths via dynamic interactive tools. Register with us today!